McGovern Medical School named member of national depression center network
---
---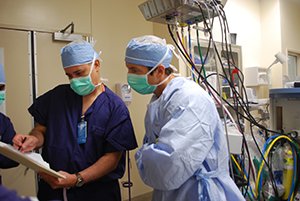 HOUSTON – (July 13, 2017) – McGovern Medical School at The University of Texas Health Science Center at Houston (UTHealth) has been named a Center of Excellence member of the National Network of Depression Centers (NNDC), a consortium of leading academic medical centers working to accelerate research, education and improved treatment options for people with depressive and bipolar illnesses.
"We are honored to join the NNDC," said Jair C. Soares, M.D., Ph.D., professor and Pat R. Rutherford, Jr. Chair in the Department of Psychiatry at McGovern Medical School at UTHealth. "The NNDC provides the glue to bring together the most prestigious mood disorder research and clinical practice institutions in the country to fight the stigma and advocate for research, more treatments and better treatments."
NNDC is a non-profit 501 (c)(3) network unites many of the nation's leading academic medical institutions to harness the collective power and resources of network members to expedite scientific discovery and advances in patient care for people with mood disorders. Its membership includes many of the nation's top medical institutions. Acceptance involves a rigorous application process detailing high-levels of expertise in clinical delivery, research and education.
Pat Rinvelt, NNDC executive director, said McGovern Medical School is a welcome addition to its growing collaborative network. "By uniting with the members of the NNDC, McGovern Medical School's impact will be amplified through the network, strengthening both, and accelerating the critical work being done in the field of mood disorders."
The NNDC brings together experts from across the nation who:
Actively pursue initiatives in education, research, clinical care delivery, and community outreach to improve quality of life of patients suffering from mood disorders
Engage in interdisciplinary collaborations both within their home institution and across the network to accelerate dissemination of research
Identify opportunities for multi-site studies and emerging partnerships to advance the diagnosis and treatment of depressions and bipolar illnesses
Promote measurement based care, quality improvement, and research through the NNDC Mood Outcomes program available for use at NNDC member sites.
The Department of Psychiatry and Behavioral Sciences at McGovern Medical School is home to the UTHealth Center of Excellence on Mood Disorders. Soares is director of the center, which includes more than 90 faculty who are equipped with state-of-the-art translational and clinical research laboratories.
Technological tools and resources allow the highest level of research and expertise in brain imaging and clinical psychopharmacology to investigate major depressive disorder and bipolar disorders. Active clinical and research teams specialize in clinical neurosciences (neuroimaging, neurophysiology, cognitive neurosciences and genetics), as well as clinical psychopharmacology and interventions research.
To make an appointment with a physician from the UTHealth Center of Excellence on Mood Disorders, contact UT Physicians Psychiatry Outpatient Clinic-BBSB at 713-486-2700. For more information about participating in a clinical research trial, visit here.
---