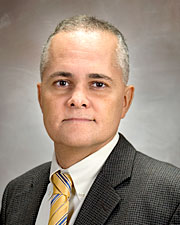 Welcome to the Department of Psychiatry and Behavioral Sciences at McGovern Medical School. Our team of faculty and staff is dedicated to our missions of education, research and patient care.
Through education, we train the students, residents and fellows of today to become the mental health care leaders of tomorrow – whether in public or private sectors, in solo or group practice, as researchers, educators or clinicians. Our training programs include general psychiatry residency, child and adolescent psychiatry fellowship and psychology internship. Our faculty members are also involved in the medical school program through their behavioral sciences course, clinical clerkships and fourth-year elective rotations.
In research, our faculty and staff are at the forefront of the exploration of the causes of and treatments for mental illness. Great strides have been made in recent years through research – some at our institution. We have research centers that study mood disorders and addictions, as well as labs devoted to molecular psychiatry and behavioral sciences research.
In patient care, the Department of Psychiatry and Behavioral Sciences provides innovative approaches to the treatment of patients in public and private hospitals as well as ambulatory care settings. Our skills and technology are balanced with compassion and respect for the patients we serve. Over the past several years, we have expanded our services to include a number of community clinics and hospitals, with providers of both inpatient and outpatient services. Additionally, our faculty staffs the 250-bed inpatient hospital associated with the Department of Psychiatry and Behavioral Sciences, UTHealth Harris County Psychiatric Center.
We greatly value our relationship with the Houston community. We currently provide educational programs for individuals and families and support the public service activities of our faculty and staff, who volunteer in many capacities for community-based professional and mental health advocacy organizations.
Members of the Department of Psychiatry and Behavioral Sciences continually examine ways to improve the fulfillment of our missions – the processes, people and technology involved – and set new standards of excellence, ever striving for quality improvement.
This website provides an overview of the Department of Psychiatry and Behavioral Sciences, its activities and affiliations. We welcome you to tour our programs and facilities or request any additional information, and see for yourself why we're proud of our history and excited about our future.
Jair C. Soares, MD, PhD
Professor and Chairman
Pat R. Rutherford Chair in Psychiatry
Director, Center of Excellence on Mood Disorders
Department of Psychiatry and Behavioral Sciences, McGovern Medical School
Executive Director, The University of Texas Harris County Psychiatric Center