Chair's Welcome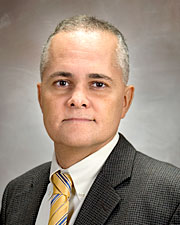 The Louis A. Faillace, MD, Department of Psychiatry and Behavioral Sciences is dedicated to the mission of education, research, and patient care. Each year we train students, residents, and fellows of today to become the mental health care leaders of tomorrow – whether in public or private sectors, in solo or group practice, as researchers, educators, or clinicians. Our training totals more than 1,650 students and 175,000 hours of education annually, including specialties in psychiatry, psychology, mental health nursing, and social work.
Our faculty and staff—at the forefront of the exploration of the causes and treatments of mental illnesses—generate more than $6 million annually in grant-supported research. Specific areas of research include mood and anxiety disorders, trauma and grief, childhood disorders, and addiction, with new programs in Post-traumatic Stress, Integrated Clinical Neuroscience and Treatment, Early Diagnosis & Intervention, Biochemical Markers, Psychiatric Genetics, and Geriatric Psychiatry. Our faculty members' wide variety of expertise covers the full spectrum of behavioral disorders, supporting research they pursue in conjunction with their clinical and educational contributions to the department.
We have the highest commitment to providing care to individuals suffering from behavioral disorders in our community. The Department of Psychiatry and Behavioral Sciences provides innovative approaches to treating patients in public and private hospitals, as well as a network of affiliated outpatient clinics. We offer outpatient services at 23 community clinics throughout Houston, in addition to specialty psychiatry clinics located at the Behavioral and Biomedical Sciences Building in the Texas Medical Center. Telemedicine now provides inpatient care to 13 hospital sites for the State of Texas Hospital System. In addition, the Department of Psychiatry has initiated school-based clinics in and throughout several different independent school districts to serve the Greater Houston area.
With more than 30 years of commitment to community service, UTHealth HCPC (Harris County Psychiatric Center) offers newly renovated units, including Mood Disorders, Geriatric Psychiatry, and Child & Adolescent Psychiatry. We also have specialized inpatient programs on Bipolar Disorder, Schizophrenia, Forensic Competency Restoration, and Dual Diagnosis. Our outpatient ECT Clinic is now fully operational, and we recently added a clinical research study of ketamine. The department also provides consultation/liaison services at Memorial Hermann-TMC, and TIRR locations, and LBJ Hospital. Our skills and technological innovation are balanced with compassion and the highest commitment and respect for the patients we serve.
Faculty …………………………………………………………………….93
Residents………………………………………………………………….42
Fellows……………………………………………………………………..6
Post-Doctoral Research Fellows……………………………..8
Research…………………………………………………………………..$6,166,000
Jair C. Soares, MD, PhD
Professor and Chairman
Pat R. Rutherford Chair in Psychiatry
Director, Center of Excellence on Mood Disorders
The Louis A. Faillace, MD, Department of Psychiatry and Behavioral Sciences, McGovern Medical School
Executive Director, The University of Texas Harris County Psychiatric Center