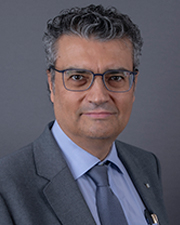 Cesar A. Soutullo, MD, PhD
Professor
Vice Chair and Chief, Child & Adolescent Psychiatry
Director, ADHD Outpatient Program
Biography
Cesar Soutullo, MD, PhD, is a professor in the Faillace Department of Psychiatry and Behavioral Sciences, Vice Chair and Chief of Child & Adolescent Psychiatry, and the Director of the ADHD Outpatient Program. He is focused on the study of ADHD and bipolar disorders in children and adolescents. He has investigated on the phenomenology of early stages of these disorders, studying children of parents with bipolar disorder, and pre-school children with early symptoms of possible ADHD. He also has published extensively on the Psychopharmacology predictor of response in ADHD, and the phenomenology, cycling patterns, pharmacology, longitudinal stability and outcome of Pediatric Bipolar disorder.
Soutullo completed his medical degree at the Complutense University of Madrid (Spain), then he went on to do internships in Internal Medicine and Emergency Medicine at Southend NHS Hospital, Southend-on-sea, Essex, England, and in General and Orthopedic Surgery at Leighton NHS Hospital in Crewe, Cheshire, England. He then completed his Residency in Psychiatry and a Fellowship in Biological Psychiatry at the University of Cincinnati Hospital, Cincinnati, Ohio, and a Fellowship in Child and Adolescent Psychiatry at Cincinnati Children's Hospital Medical Center. During his Residency and Fellowship he was awarded the AACAP Presidential Scholar Award, the AAP Fellowship in Academic Psychiatry, the Emory University Young Faculty Development Program, the Society of Biological Psychiatry Fellowship Award, the APA Research Colloquium for Junior investigators, and the Stanley Foundation / NAMI Research Award.
He then returned to Spain, where he was appointed the first Director of the Child and Adolescent Psychiatry Unit at the University of Navarra Clinic, in Pamplona, Navarra. He completed his PhD in Neurosciences at the University of Navarra with a dissertation on Phenomenology in children at high risk of developing bipolar disorder, awarded the Extraordinary Thesis Award. He created the only Fellowship Program in Child and Adolescent Psychiatry in Spain in 2004, and developed a Clinical Trials Program that was one of the European sites for the approval of several ADHD medications in Europe.
Soutullo is a member of the EUNETHYDIS Guidelines Group (European Network of Hyperkinetic Disorder), the WPA ADHD section (he served as secretary 2017-2019), and the World Federation on ADHD Scientific Program Committee, and collaborates with APSARD. He was expert reviewer of the Spanish ADHD and Pediatric Depression Clinical Guidelines, and participated in the ADHD Care Optimization Mental Health Strategy (Spanish Ministry of Health), and Coordinated the multidisciplinary team for the Spanish Plan of Action in ADHD (PANDAH). He was Member of the Board (Treasurer) of the Spanish Association of Child and Adolescent Psychiatry (AEPNYA) (2004-2008).
Soutullo has authored 88 original papers, 22 books, 108 review papers/book chapters, and 290 posters in national & international conferences. With an H Factor of 28, and estimated Impact Factor of 264. He is reviewer of 44 Journals (38 international), and Member of the Editorial Committee in 8 Journals.
Soutullo enjoys mentoring and teaching, and  has trained 10 Fellows and up to 90 Residents and Rotators in Psychiatry, Pediatrics, Family Medicine, Psychology and Nursing. He has directed six PhD dissertations, was member of 10 PhD dissertation evaluating tribunals, and has given at least 390 talks in conferences and meetings nationally and internationally.
Prior to joining the department, he was the Director of the Child and Adolescent Psychiatry Unit at the University of Navarra Clinic in Pamplona, Spain, since 1999.
Education
Medical Degree

Complutense University of Madrid, Spain

Doctoral Degree

University of Navarra, Pamplona, Spain

Residency

University of Cincinnati Medical Center, Cincinnati, Ohio

Fellowship

Biological Psychiatry, University of Cincinnati Medical Center, Cincinnati, Ohio

Fellowship

Child and Adolescent Psychiatry Cincinnati Children's Hospital Medical Center, Cincinnati, Ohio

Internship

Emergency Medicine and Internal Medicine, Southend Hospital NHS Trust, Southend-on-Sea, Essex, England, United Kingdom

Internship

General and Orthopaedic Surgery, Leighton Hospital NHS Trust, Crewe, Cheshire, England, United Kingdom
Areas of Interest
Clinical Interests
Child and Adolescent Psychiatry
ADHD
Research Interests
ADHD
Bipolar Disorder
Pediatric Psychopharmacology
Mood Disorders
Publications