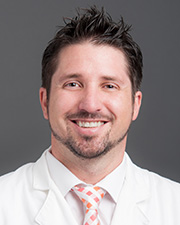 Christopher Frederick, DO
Assistant Professor
Director, Psychiatry Services, The Children's Assessment Center
Director, Psychiatry Services, C.A.R.E. Clinic
Biography
Christopher Frederick, DO, assistant professor of psychiatry and behavioral sciences, is a board-certified psychiatrist treating children, adolescents and adults at several McGovern Medical School affiliated clinics. He is currently accepting child and adolescent patients at the department's outpatient clinic, located in the Behavioral and Biomedical Sciences Building (BBSB). He is also available for appointments at the Pediatric Specialty Clinic, located inside the UT Professional Building, where he often sees patients suffering from combined mental and physical illnesses.
Fredericks's primary interest is in treating patients and their families affected by abuse, neglect and trauma. He is the director of Psychiatry Services at the C.A.R.E. Clinic, an integrated care clinic focusing on abuse and neglect. He also serves as the director of Psychiatry Services at The Children's Assessment Center, one of the largest child abuse centers of its kind. The Children's Assessment Center specializes in helping victims and their families affected by sexual abuse. Lastly, he brings his expertise in psychiatry to the Harris County Protective Services IHC Program, which is pioneering an integrated mental and physical health care model for children in the foster care system.
Additionally, Frederick is passionate about advocating for the mental well-being of children and adolescents. He recognizes that the impact of abuse, neglect, and exploitation of children is vastly underappreciated, and requires a systemic shift in the way we approach these issues as a society.
"The cave you fear to enter holds the treasure you seek." –Joseph Cambpell
Education
Medical Degree

Western University of Health Sciences

Residency

Psychiatry, University of Texas Health Science Center at Houston

Fellowship

Child and Adolescent Psychiatry, University of Texas Health Science Center at Houston
Areas of Interest
Clinical Interests
Adult General Psychiatry
Adolescent General Psychiatry
Anxiety/OCD
Autism
Bipolar Disorder
Child General Psychiatry
Conduct Disorder
Depression
Developmental & Intellectual Disabilities
Disruptive Mood Dysregulation Disorder
Eating Disorders
Oppositional Defiant Disorder
Psychosomatic Disorders
PTSD
Schizophrenia
Sexual Abuse
Trauma
Second Opinion