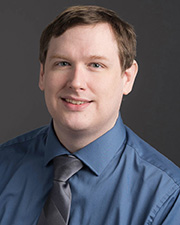 Biography
Robert Suchting, PhD, is an assistant professor in the Department of Psychiatry and Behavioral Sciences and a substance use researcher with the Center for Neurobehavioral Research on Addiction (CNRA). He is trained in social psychology and quantitative methods. He received his PhD in Social Psychology at the University of Houston and completed his postdoctoral research fellowship at CNRA in the Department of Psychiatry and Behavioral Sciences.
Suchting specializes in data science approaches that utilize machine learning algorithms to optimize prediction and knowledge discovery, as well as biostatistics, the use of statistical analytic techniques including generalized linear modeling, structural equation modeling, and multivariate analysis to examine clinical outcomes. During his career, he has gained expertise working with both Frequentist and Bayesian approaches to statistical modeling using data sets of varying sample size and dimensionality (i.e., those with few or many variables).
In his role as a statistician, he works collaboratively with other investigators to facilitate research into substantive problems of interest. He has primarily focused his attention on research problems in psychiatry, such as drug dependence, mood disorders, schizophrenia, PTSD, and aggression. He also has experience working with researchers involved with other social science and health care issues, including smoking cessation, diabetes, hepatitis C, and elder abuse.
Education
Doctoral Degree

Social Psychology, University of Houston

Fellowship

Center for Neurobehavioral Research on Addictions, University of Texas Health Science Center Houston
Areas of Interest
Research Interests
Biostatistics
Data Science
Machine Learning
Mood Disorders
Quantitative Methods
Substance Use
Publications