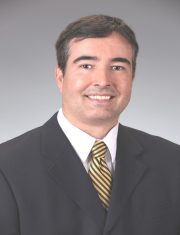 Rodrigo Machado-Vieira, MD, PhD, MSc
Professor
Director, Bipolar Disorder Program
Director, Experimental Therapeutics and Molecular Pathophysiology Program
Biography
Rodrigo Machado-Vieira, MD, PhD, MSc is a Professor at the Faillace Department of Psychiatry and Behavioral Sciences, Director of Bipolar Disorder Program, Director of the UTHealth Experimental Therapeutics and Molecular Pathophysiology Program, and Visiting Professor, Institute of Psychiatry, King's College London.
After a master in biochemistry, residency, and PhD, Machado-Vieira completed a Fellowship in Experimental Therapeutics at the National Institute of Mental Health (NIMH) until 2009. At the Intramural NIMH, Machado-Vieira was later the Director of the Translational Research Clinic in Mood Disorders from 2012 to 2017 in the Experimental Therapeutics and Pathophysiology Branch.
In 2017, joined the Faillace Department of Psychiatry and Behavioral Sciences. Machado-Vieira's current research focuses on the identification of novel biomarkers and improved therapeutics for mood disorders. Dr. Machado-Vieira's work focuses on proof of concept clinical trials evaluating new or repurposed medications. His research also utilizes translational technologies such as brain imaging, biochemical, molecular, and genetic approaches to identify biological signatures of antidepressant responses to new agents in human and preclinical studies. A multidisciplinary translational research team conducts the research and also involves residents, fellows, and trainees.
Machado-Vieira has more than 200 peer-review publications, which have been cited more than 13,000 times (H index 60). His achievements and awards include the National Institutes of Health Fellows Award for Research Excellence, the Brazilian Psychiatric Association Award, the Sao Paulo Young Investigator Research Award, Stanley Medical Research Institute Research Award, and the Gerald Klerman Young Investigator Award, Depression and Bipolar Support Alliance (DBSA).
Education
Medical Degree

PUC-RS, Brazil

Residency

Psychiatry, Federal University of Health Sciences of Porto Alegre, Brazil

Fellowship

Mood Disorders, National Institute of Mental Health, National Institute of Mental Health, NIH, Bethesda, MD

Doctoral Degree

Psychiatry, University of Sao Paulo, Brazil

Master's Degree in Biochemistry

Federal University of Rio Grande Do Sul, Brazil
Areas of Interest
Clinical Interests
Bipolar Disorder
Depression
Research Interests
Mood Disorders
Neuroimaging
Psychopharmacology
Publications