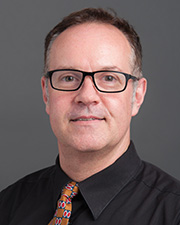 Professor
Director, Psychological Intervention & Research Program on Mood Spectrum Disorders
Co-Director, The UTHealth Brain Collection for Research in Psychiatric Disorders
Biography
Thomas D. Meyer, PhD, is a clinician and researcher specializing in bipolar disorders who works towards improving the quality of life for individuals experiencing mood disorders and their loved ones through research, training, and practice. He also works to improve identification of bipolar disorders (e.g., Hypomania Checklist-32) as well as identifying the factors and processes involved in the development and maintenance of depression and mania.
As an accomplished researcher, Meyer was the principal investigator (PI) of the only German RCT of Cognitive Behavior Therapy for Bipolar Disorders. Since then, he was involved in trials looking at family intervention for adolescents with bipolar disorder (FAB study, UK) or early intervention for bipolar disorder and has aided in the development of treatment guidelines for bipolar disorders in Germany and the UK. Meyer has also been a PI of the LiveWell program, which developed lifestyle-based interventions to improve health and well-being in later life.
In 2005, Meyer received the Lilly Young Fellowship Award from the International Society for Bipolar Disorders due to his tremendous input in the field. His expertise  is further highlighted by his nomination as a member with two national treatment guidelines for bipolar disorders: (1) task force leader for psychotherapy and psychoeducation for the  1st edition the German S3 guideline for bipolar disorders, and its 2019 revision, and (2) the update of the bipolar treatment guideline by the National Institute of Clinical Excellence (NICE), United Kingdom, published in 2014.
Meyer completed his PhD and training as a clinical psychologist at Johannes Gutenberg University in Mainz, Germany.  He then joined the faculty of the Department of Clinical and Developmental Psychology at the Eberhard Karls University, Tübingen, Germany, first as an assistant and then associate professor. In 2006, Meyer accepted a position at Newcastle University, UK. There he was the PI and Co-I in several MRC and RfPB funded projects, such as the MRC ABC study (a cohort of patients experiencing bipolar II), the RfPB funded FAB study (feasibility RCT evaluating Family Focused Treatment for adolescents with bipolar disorders), the RfPB funded EIMD study (early identification and intervention of individuals at risk for recurrent mood disorders).
In June of 2014, Meyer joined the Department of Psychiatry and Behavioral Sciences at McGovern Medical School as an associate professor. In addition to his clinical services as well as his academic and teaching commitments to psychology interns, psychiatry residents and medical students, Meyer is also actively involved in research as the Director of the Psychological Intervention & Research Program on Mood Spectrum Disorders (PIRL-M) and the Co-Director of the UT Brain Collection.
Education
Master's Degree

Psychology, Johannes Gutenberg University, Mainz, Germany

Clinical Training

Clinical psychology and Psychotherapy, Johannes Gutenberg University, Mainz, Germany

Doctorate Degree

University of Mainz

Habilitation

'Privatdozent', Eberhard Karls University, Tübingen, Germany
Areas of Interest
Clinical Interests
Psychotherapy & Psychosocial Interventions
Bipolar Disorder
Depression
Psychological Screening
Individual complex case formulations
Research Interests
Mental Health Well-being
Psychedelic Assisted Therapies
Virtual Environments as Support Platform
Mood Disorders & their spectrum
Publications
Patient Information