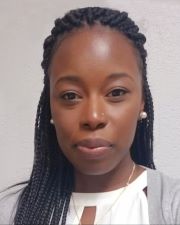 Assistant Professor, Faillace Department of Psychiatry and Behavioral Sciences
Biography
Funlola Are, PhD, is an assistant professor in the Faillace Department of Psychiatry and Behavioral Sciences. She earned her PhD in clinical psychology at the University of Georgia and completed a clinical psychology doctoral internship and postdoctoral fellowship at the Medical University of South Carolina. Her program of research focuses innovative methods to identify children at risk for traumatic stress and ways to expand the reach of evidence-based prevention and intervention initiatives to underserved populations. Pursuant to this, she has led and collaborated on investigations related to examining physical and biological factors related to socioemotional functioning in mother-child dyads, novel approaches to maltreatment identification in primary care settings, dissemination and implementation of evidence-based trauma interventions, and the evaluation of an evidence-based kinship caregiver case management and maltreatment prevention program. She is a NIMH Child Health Intervention, Prevention, and Services Training Fellow and NICHD Researchers in Child Abuse and Neglect Training Fellow. She serves on the Child Maltreatment Editorial Board and is an ad-hoc reviewer for several journals in her field. She also serves as a member of the American Psychological Association, Society for Research in Child Development, and the Society for Implementation Research Collaborative.
As a clinical psychologist, Are has expertise in several empirically supported treatments (e.g., Cognitive Behavioral Therapy, Trauma-Focused Cognitive Behavior Therapy, Cognitive Processing Therapy, Prolonged Exposure Therapy, Behavior Management Training, Brief Interventions for Primary Care).
At UTHealth, Are is actively involved in the mentorship and training of medical students, and postdoctoral fellows.
Education
Doctoral Degree, Clinical Psychology

The University of Georgia

Predoctoral Clinical Internship

The Medical University of South Carolina Postdoctoral Fellowship

Postdoctoral Fellowship

The Medical University of South Carolina

Bachelor of Science

Northwestern University
Areas of Interest
Clinical Interests
Childhood Trauma
Integrated Care
---
Research Interests
Childhood Trauma
Integrated Care/Primary Care
Evidence-based Trauma Interventions