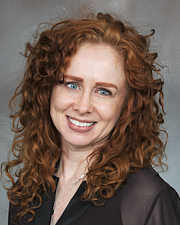 Biography
Giovana Zunta-Soares, MD, associate professor of psychiatry and behavioral sciences, currently serves as the director of the Mood Disorders Clinical Trials Program and the director of the Mood Disorder Clinic. With over 21 years of clinical experience, she combines her knowledge with compassion to provide excellent care for her patients. In her role as director of the Mood Disorders Clinic, she leads a team of five psychiatrists dedicated to assessing and treating mood disorders. She is currently working to expand clinic services to include second opinion and women's mental health services.
Zunta-Soares received her medical education at Fundacao Universidade de Caxias do Sul in Brazil and completed her psychiatry residency at Hospital Psiquiatrico Sao Pedro also in Brazil. She continued her training with two clinical research fellowships at The University of Texas Health Science Center at San Antonio and The University of North Carolina at Chapel Hill. Originally from Brazil, Zunta-Soares is fluent in Portuguese and Spanish.
Zunta-Soares actively participates in research on mood disorders with the Center of Excellence on Mood Disorders. Her research focuses specifically on the brain mechanisms involved in bipolar and unipolar mood disorders, neuroimaging and neurocognitive studies and clinical trials to develop new treatments for these conditions. She has authored more than 60 peer-reviewed publications and mentored clinical investigators including graduate students, residents and postdoctoral research fellows. Her current work is focused on how to integrate neuroimaging, neurocognition and other biomarkers into meaningful clinical diagnostic tools.
Education
Medical Degree

Fundacao Universidade de Caxias do Sul, Brazil

Residency

Psychiatry, Hospital Psiquiatrico Sao Pedro, Brazil

Clinical Research Fellowship

Psychiatry, The University of Texas Health Science Center at San Antonio

Clinical Research Fellowship

Psychiatry, The University of North Carolina at Chapel Hill
Areas of Interest
Clinical Interests
Adult General Psychiatry
Bipolar Disorder
Depression
---
Research Interests
Deep Brain Stimulation
Mood Disorders
Neuroimaging
Neuropsychology
Psychopharmacology
Publications