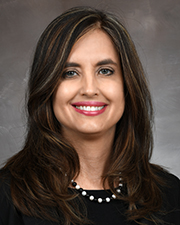 Jane E. Hamilton, PhD, MPH, LCSW
Biography
Jane Hamilton, PhD, MPH, LCSW, assistant professor of psychiatry and behavioral sciences, is a health services researcher at UTHealth Harris County Psychiatric Center (HCPC). She has presented and published research in the areas of mental health quality, utilization, and outcomes, program evaluation methods, early intervention in mental illness, patient engagement in mental health services and mental health disparities. Over the last eight years, Hamilton has conducted research on cost and outcome studies of mental health, substance use and emergency department services. She has also evaluated programs funded at the local, state and national levels.
A licensed clinical social worker, Hamilton sees patients of all ages. She believes in providing a collaborative, patient-centered approach to treatment guided by the patient's needs. Hamilton uses the implementation of evidence-based interventions and early intervention in mental illness.
She has extensive education and training, having received her PhD in health services research and  completed  a postdoctoral research fellowship in mental health outcomes research both at the University of Texas Health Science Center at Houston. She is also a HRSA Maternal Child Health Training Fellow and a NCI Training Fellow. She was also honored with a Doctoral Dissertation Award in Children's Mental Health.
Education
Doctoral Degree

Health Services Research, Health Policy & Biostatistics, University of Texas Health Science Center

Master's Degree

Social Work, University of Houston

Master's Degree

Public Health, University of Texas Health Science Center at Houston

Postdoctoral Research Fellowship

Mental Health Outcomes Research, University of Texas Health Science Center at Houston
Areas of Interest
Clinical Interests
Adult General Psychiatry
Adolescent General Psychiatry
Child General Psychiatry
Depression
Schizophrenia
---
Research Interests
Community Mental Health
Cost-Effectiveness Analysis
Cross-cultural Psychiatry
Health Policy
Health Services Research
Program Evaluation
Schizophrenia
Substance Abuse
Publications