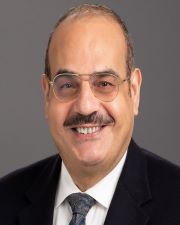 Biography
Ossama Osman, MD, has recently joined the Faillace Department of Psychiatry and Behavioral Sciences. For more than three decades, he developed extensive and diverse experience, both in the U.S. and internationally in the Gulf Region.
Osman's research career started with basic pharmacologic laboratory research during his residency training in Illinois, follows by clinical pharmacologic research during his research fellowship at the National Institute of Mental Health (NIMH) in Bethesda. For a decade afterward, he held full time faculty posts at several U.S. universities before moving to the Gulf Region.
He joined us from the United Arab Emirates (UAE) where he was a professor of psychiatry in the College of Medicine and Health Sciences (CMHS) at the UAE University. There, he founded and directed the first structured UAE national psychiatric residency training program. He also co-founded and co-directed the Higher Professional Clinical Diploma program in applied psychological skills and competencies in mental health (a joint program with the National Addiction Rehabilitation Center in Abu Dhabi)
For more than a decade, Osman was key to developing the Arab Board of Psychiatry training curriculum for the region, and recently serving as the president. He contributed to undergraduate medical education at CMHS and developed and coordinated several undergraduate and graduate courses including clinical counseling skills, and ethical conduct in medial research.
Returning to the United States, Osman focuses on applied research, especially community primary care and hospital interdisciplinary studies. He is board certified in general psychiatry by the American Board of Psychiatry and Neurology and is a Life Fellow of the American Psychiatric Association.
Education
M.B.B.Ch., Medicine and Surgery

University of Cairo

Fellowship – Clinical Psychopharmacology Research

The National Institute of Mental Health (NIMH), Bethesda, Md, US

Resident – Psychiatry Residency Program

Southern Illinois University School of Medicine, Springfield, Illinois, USA
Areas of Interest
Clinical Interests
Addiction Treatment and Rehabilitation
Clinical Psychopharmacology
Cognitive Behavioral Therapies
---
Research Interests
Community Psychiatric Epidemiologic studies in primary care
Interdisciplinary Clinical Psychiatric research (Bariatric, psycho-dermatology, trauma, interpersonal violence)
Translations of Structured Diagnostic Instruments
Trauma, Interpersonal Violence and Substance Abuse
Publications