Patient Care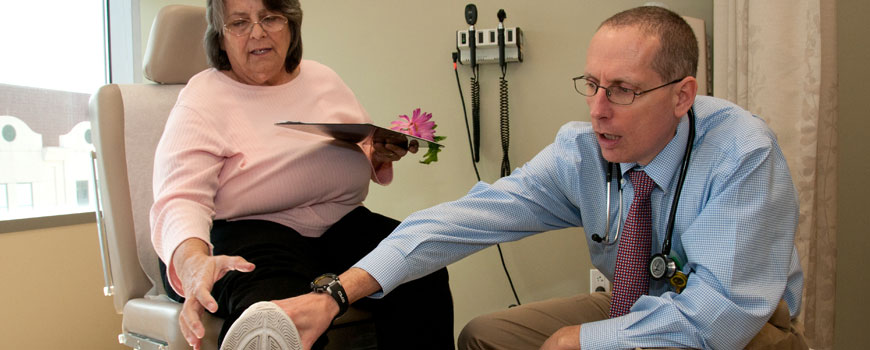 UT Physicians (UTP) Gastroenterologists and Hepatologists see patients in multiple locations in the Greater Houston area.  Those locations include:
UTP gastroenterologists provide diagnosis, treatment, education, and management related to conditions, such as:
Irritable bowel syndrome
Motility problems (the movement of food through the digestive system)
Malabsorption – a disorder in which the body does not properly absorb nutrients from food
Acid reflux and indigestion
Ulcerative colitis
Peptic ulcers
Crohn's disease
Pancreatitis
Cancer screening
UTP gastroenterologists perform a wide variety of common and cutting-edge GI procedures including upper and lower diagnostic and therapeutic endoscopy, small bowel enteroscopy, and GI physiology tests such as manometry and esophageal pH studies in the fully equipped outpatient clinical gastroenterology suites with fluoroscopic capabilities.
UTP hepatologists provide high-quality, effective care for patients with chronic and acute liver disease due to:
Metabolic disorders
Cancer
Infection
Genetic disorders
Chemical dependency
Texas Liver Center's Medical Director of Liver Transplantation, Shehzad Merwat, MD, Director of Liver Transplantation,  J. Steve Bynon, MD, FACS , and a team of nationally renowned hepatologists and surgeons are committed to providing adults with leading-edge medical care in a compassionate environment. The Texas Liver Center's team of medical experts measures success in practical terms helping patients live full, productive lives.
Multidisciplinary Approach to Patient Care
The Texas Liver Center offers physician expertise and support services to address the needs of patients with all stages of liver disease. These specialists are on the front line of disease management for hepatitis patients, research and surgical advances such as:
Liver Transplantation for liver cancer
Cirrhosis
Other forms of liver diseases.
The multidisciplinary approach emphasizes patient comfort and provides streamlined assessment and treatment plans. Patients are assigned a single coordinator who oversees and schedules individualized treatment plans and ensures continuity of care.
Patient-centered Care
Patient care plans include assessment, treatment and follow-up. New patients are typically evaluated and diagnosed in two to three days. A team of specialists and support staff meets weekly to formulate and review patients' medical management programs. Should an inpatient procedure or transplant be indicated, physicians utilize advanced imaging techniques and state-of-the-art surgical suites at Memorial Hermann Hospital. Memorial Hermann Hospital is the No. 1 donor hospital in the United States. Transplant candidates receive high priority; the goal is to place patients on the waiting list within two weeks.
UT Physicians (UTP) Provider Information
UT Physicians (UTP) is a multi-specialty independent physician association, group practice, organized as a 501 (a) corporation under the Texas Medical Practice Act. UTP offers operational and contracting flexibility for the physicians of McGovern Medical School at UTHealth. UTP has developed and will continue to operationalize patient care centers in the greater Houston communities. UTP entertains case rate and carve out pricing with forward movement to global, specialty and primary care capitation through direct contracting with payor entities. Through the flexibility for the selection of smaller panels within the UTP Network, UTP is able to satisfy the needs of the managed care market.
Managed Care Plans
If you wish to search for a UTP Physician participating in your managed care plan, please call 1-888-488-3627.
Public Health Information
Important information regarding many diseases related to the digestive system (e.g., Hepatitis A, B, & C and Crohn's Disease) can be found at the National Institutes of Health – National Institute of Diabetes and Digestive and Kidney Diseases website.