John R. Williams, MD
Neurosurgeon
Assistant Professor
Vivian L. Smith Department of Neurosurgery
McGovern Medical School at UTHealth Houston
Dr. John Williams is a fellowship-trained neurosurgeon who specializes in complex spinal surgery, particularly in spine trauma and minimally invasive approaches. His areas of clinical expertise also include cranial trauma and traumatic brain injury.
After graduating from Swarthmore College in 2006 with a bachelor's degree in film and media studies, he was awarded a Fulbright Research Scholarship to study hip-hop culture and the integration of nationalist German and Turkish immigrant youth, in affiliation with Humboldt University in Berlin, Germany. He later changed his focus to medicine, completing postbaccalaureate
studies in premedical sciences at Bryn Mawr College in 2011. He earned his medical degree at The Warren Alpert School of Medicine at Brown University in Providence, Rhode Island, in 2015, winning the Stanley Aronson Prize for Best Neuroscience Research in his fourth year.
He completed neurosurgical residency training at the University of Washington in Seattle and went on to complete a fellowship in complex spinal surgery at the Johns Hopkins University in 2023.
Dr. Williams' research interests include traumatic brain injury outcomes prediction and outcomes improvement. He has been recognized with numerous academic honors and awards, and is the
co-author of peer-reviewed publications and two book chapters. In his previous career, he received a Best Picture Nomination at the Academy Awards and the Grand Jury Prize at the Sundance
Film Festival for his role as producer of "Beasts of the Southern Wild" in 2012.
Using a personalized approach to each patient's needs, Dr. Williams collaborates with neurologists, physiatrists, physical therapists, neuropsychologists, chiropractors, and pain management specialists.
Education/Training
Medical School
Brown University, 2015
Residency
University of Washington
Fellowship
Johns Hopkins University, 2023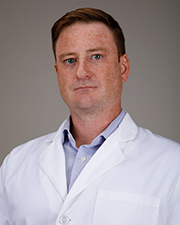 Dr. Williams Sees Patients at:
Spine Center
6400 Fannin St, Suite 2150
Houston, TX 77030
Phone: (713) 486-8100
Fax: (713) 486-8101