Internationally Renowned Otolaryngologist Speaks at 2012 ORL Frontiers
---
---
Seventy physicians and other healthcare professionals attended Otorhinolaryngology Frontiers 2012, which highlighted research endeavors and emerging technology in the diagnosis and management of common otolaryngologic clinical problems. Held on June 23, 2012, at the Brown Foundation Institute of Molecular Medicine in the Texas Medical Center and sponsored by the department of Otorhinolaryngology-Head and Neck Surgery at The University of Texas Health Science Center at Houston (UTHealth) Medical School, the CME event featured guest speaker Brian Nussenbaum, MD, FACS.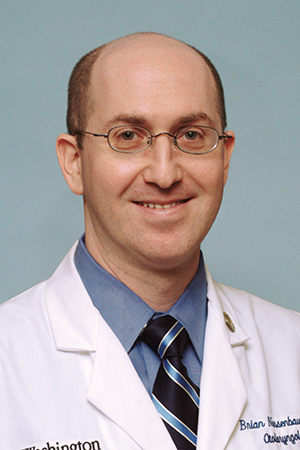 Dr. Nussenbaum is the Christy J. and Richard S. Hawes III Associate Professor of Otolaryngology, vice chair for clinical affairs, patient safety officer and co-director of the fellowship program in head and neck oncology and microvascular reconstruction in the department of Otolaryngology-Head and Neck Surgery at Washington University School of Medicine in St. Louis.
Dr. Nussenbaum's clinical areas of focus include head and neck neoplastic disease, reconstructive head and neck surgery and salivary gland surgery including sialendoscopy. His current clinical research interests include defining quality metrics for the care of head and neck cancer patients. His basic science research focuses on the bone morphogenetic protein-signaling pathway as it relates to oral cancer. Dr. Nussenbaum presented talks at ORL Frontiers entitled "Basic Principles and Future Directions for the Treatment of Oral Cancer" and "Patient Safety and Continuous Quality Care Improvement."
"ORL Frontiers is an annual event that highlights the research productivity of members of the department," says Amber Luong, MD, PhD, a physician scientist who holds joint appointments in the Department of Otorhinolaryngology-Head and Neck Surgery and in the Institute of Molecular Medicine within the Center for Immunology and Autoimmune Diseases at McGovern Medical School.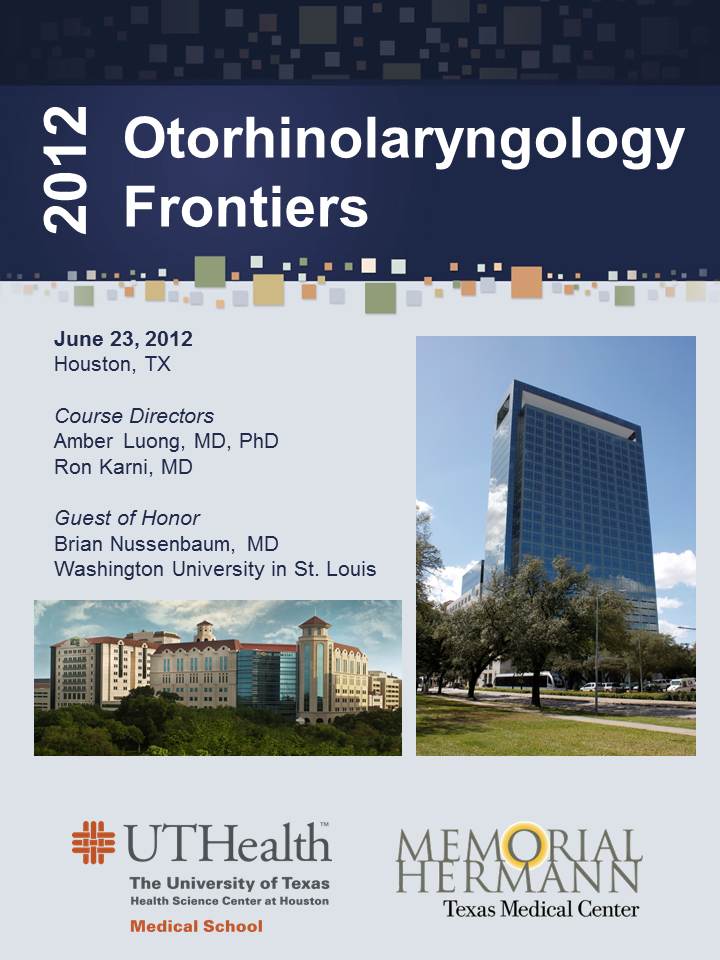 ORL Frontiers 2012 included the following presentations by the department's faculty and residents:
"Does the Carbon Dioxide Laser Enhance Transoral Robotic Surgery?" by Ron Karni, MD, assistant professor, UTHealth Department of Otorhinolaryngology-Head and Neck Surgery
"Optical Rhinometry in Irritant Rhinitis Using a Capsaicin Trial" by Elton Lambert, MD
"Need for Tracheostomy and Laryngectomy Education for Patient Safety" by Douglas Stanley, MD
"Mometasone Furoate Gel: A Novel In-Office Treatment of Recalcitrant Postoperative Chronic Rhinosinusitis" by Ibrahim Alava III, MD
"Manuka Honey for Management of Chronic Rhinosinusitis: An In-vitro and In-vivo Analysis" by Nick Sorrel, MD
"Endoscopic Management of Sinonasal Hemangiopericytomas: A Combined Institution Experience" by Fernando Gomez-Rivera, MD
"Long-Term Outcomes After Central Compartment Lymph Node Dissection for Recurrent Well-Differentiated Thyroid Cancer" by Garima Agarwal, MD
---