Lone Star Rhinology Course Attracts a National Audience
---
---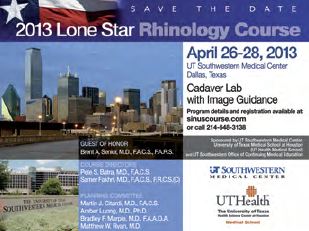 Brent Senior, MD, FACS, FARS, chief of the division of Rhinology, Allergy and Endoscopic Skull Base Surgery at the University of North Carolina School of Medicine, was the guest of honor at the 2013 Lone Star Rhinology Course held April 26-28 at UT Southwestern Medical Center in Dallas. Approximately 125 otolaryngologists, residents and fellows in training and other healthcare providers attended the CME course, which provided a comprehensive update on advances in medical and surgical care of rhinologic diseases.
The course described current treatment strategies for sinonasal disease with an emphasis on comprehensive evaluation and medical treatment, as well as minimally invasive endoscopic sinus surgical techniques. Participants reviewed the endoscopic and radiographic anatomy of the paranasal sinuses; diagnostic criteria for chronic rhinosinusitis (CRS); medical management strategies for CRS; evaluation and management of FESS failures; decision-making and key techniques in frontal sinus surgery; endoscopic surgical techniques for management of epistaxis, Graves orbitopathy and CSF rhinorrhea; and emerging technologies in rhinology. A laboratory component focused on key surgical principles of FESS; endoscopic techniques of maxillary antrostomy, ethmoidectomy and frontal sinusotomy; approaches to the sphenoid sinus; advanced endoscopic techniques; the use of surgical navigation and intraoperative CT in the OR; and lateral canthotomy and cantholysis.
Lone Star Rhinology was joint effort of the departments of Otorhinolaryngology of the University of Texas Southwestern Medical School (UTSW) and the University of Texas Medical School at Houston (UTHealth). Pete S. Batra, MD, associate professor, Department of Otolaryngology-Head and Neck Surgery, UTSW, and Samer Fakhri, MD, Department of Otorhinolaryngology-Head Neck Surgery, UTHealth. Planning committee members included Martin J. Citardi, MD (UTHealth), Amber U. Luong, MD, PhD (UTHealth), Bradley F. Marple (MD, Ph.D.), and Matthew W. Ryan, M.D. (UTSW).
Faculty at the 2013 course were Samuel Barnett, MD, assistant professor, department of Neurological Surgery, UT Southwestern Medical Center in Dallas; Michael Chater, MD, fellow in the Department of Otorhinolaryngology—Head and Neck Surgery at McGovern Medical School; David W. Clark, M., Division of Otolaryngology—Head and Neck Surgery at Texas A&M University System Health Science Center College of Medicine in Temple, Texas; Nathan Deckard, M.D., instructor, Department of Otolaryngology, UT Southwestern Medical Center in Dallas; David Khan, M.D., professor, Division of Allergy and Immunology, UT Southwestern Medical Center in Dallas; K. Christopher McMains, MD, chief of otolaryngology at South Texas Veterans Health Care System and associate professor at The University of Texas Health Science Center at San Antonio; Mas Takashima, MD, FACS, FAAOA, assistant professor in the Department of Otolaryngology—Head and Neck Surgery at Baylor College of Medicine in Houston; and Erik K. Weitzel, MD, Department of Otolaryngology—Head and Neck Surgery, Wilford Hall Medical Center in San Antonio, Texas.
---