Physicians' Mission Satisfied
---
---
Jim Finley, who has been in the newspaper business for more than 30 years, writes a humor column for the Baytown Sun, a community newspaper published five days a week in Baytown, Texas, 25 miles east of Houston. In September 2013, he wrote a column entitled "Why So Blue with the Good News?" describing the emotions he felt after being discharged as a cancer patient following three years of treatment.
"Why was the sound of 'You're outta here' so bittersweet?" he asked in his column. "Why aren't I happy? It's a syndrome called Physicians' Mission Satisfied (PMS). Or put another way, I love these two guys and shall miss having them in my life, if not chiseling into my head."

The "two guys" he's referring to are otorhinolaryngologist Ron J. Karni, M.D., and facial plastic and reconstructive surgeon Tang Ho, M.D., both of whom are affiliated with Memorial Hermann-Texas Medical Center and assistant professors in the department of Otorhinolaryngology—Head and Neck Surgery at UTHealth Medical School. Finley met them in late July 2010, when his grandson-in-law Christian Erikson, M.D., a pediatric critical care specialist at the academic medical center, and his granddaughter Katie Erikson, a former nurse at Memorial Hermann, encouraged him to see a specialist.

"It all started after I had cataract surgery in October 2009," says Finley, former managing editor of the Baytown Sun who goes by the nickname T. "I got new glasses, and they were rubbing against a spot on my head above my right ear. I went back to have them adjusted, which eventually led to my discovery that the little bump on my head was actually a very large squamous cell carcinoma invading the bone of my ear. Dr. Karni called me at home a few days after the biopsy. 'T, we'll do surgery on Sept. 1,' he said. I thought, 'What a way to start the football season!'"

Dr. Karni describes the tumor as a very aggressive and invasive malignancy of the neck. "When we examined T, we knew his temporal bone would have to be removed," he says. "Dr. Yuksel was able to remove a considerable portion of the bone in what turned out to be a very long operation involving resection of the tumor and a major reconstruction." Sancak Yuksel, M.D., is an assistant professor in the department of Otorhinolaryngology—Head and Neck Surgery at UTHealth Medical School.
"We worked together as a team," Dr. Karni says. "Dr. Yuksel is a world-class temporal bone surgeon. I managed the oncological aspect from the top of the neck to the bottom of the ear. Dr. Ho prepared an anterolateral thigh (ALT) free-tissue transfer while we were working on the ear. I'm fortunate to have such great guys around me whose surgical skills complement each other so well. It allows us to do amazing work for our patients."
The size of the tumor necessitated sacrifice of a portion of Finley's ear and the facial nerve on the right side, which allows for facial movement. "We used the ALT free-tissue transfer to reconstruct the facial defect that resulted from the tumor removal," Dr. Ho says. "We transplanted T's thigh tissue with blood vessels attached, and reconnected the vessels in the neck to reconstruct the large defect on his face. We know that these tissues will shrink a great deal over time, so we make the transfer larger initially to compensate for anticipated loss in volume."
In an earlier humor column entitled "Beating the Grapefruit Tumor," written in September 2010 a few days after his discharge from the hospital, Finley offered his own description of the surgery. "What Dr. Karni taketh away, Dr. Ho restoreth," he wrote. "A quiet, studious man, Dr. Ho – if you can believe this – took part of my right thigh and threw it up there to cover the hole left by the removal of the 'grapefruit.' I now look like I have this little beehive there, and I'm glad I won't be running the hurdles anytime soon. This is a shame, but for the time being at least, I no longer look like Brad Pitt."
A year later, in October 2011, Dr. Ho took Finley back to the OR to perform a comprehensive facial reanimation. "At the time of tumor resection, using a nerve graft from T's thigh, we reconstituted the continuity of the facial nerve to restore facial tone," he says. "Later, to further improve facial symmetry and restore his ability to smile, we did a temporalis tendon transfer, rerouting the temporalis muscle from the side of his jaw to the corner of his mouth. To address his inability to close his right eye as a result of the original facial nerve resection, we used a platinum chain implant in the upper eyelid. To correct the problem of ectropion and excess tearing, we performed a procedure that tightened his lower eyelid.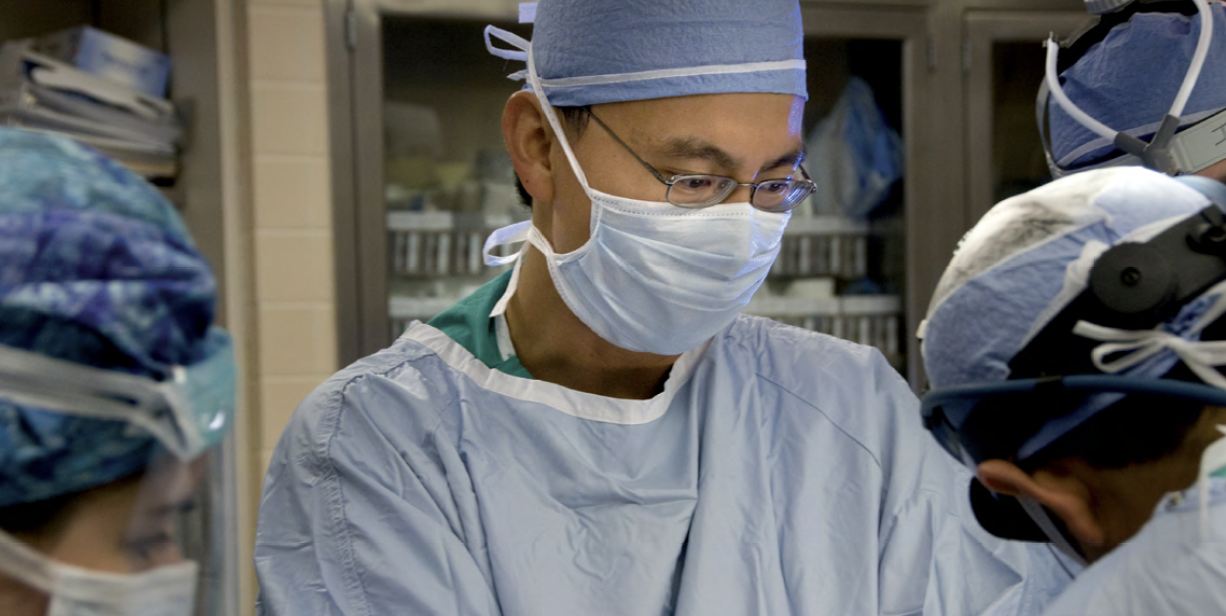 "We eat, we talk, we blink our eyes – all without even thinking about it," Dr. Ho says. "When you lose the ability to close your eye, to smile and to talk without slurring, it totally changes how people react to you, which in turn dramatically changes your life. The ultimate goal of what we do with facial reanimation is to help patients reintegrate into their family and social lives."
Over those three years of treatment Finley, his wife Margie, Dr. Karni and Dr. Ho established a personal relationship. In "Why So Blue with the Good News?" he wrote, "There were many Karni-Ho office visits. Too many to count. Since I slept through most of the surgeries, their office is where I really got to know and admire them. They became like family. So much so that you could almost visualize them sitting at the table with us on, say, Thanksgiving."
"'This is great turkey,' I could imagine Dr. Karni saying. 'May I have some more, Margie?'"
"'Pass that corn casserole, please,' I could picture Dr. Ho requesting. 'Delicious!'"
"No wonder Wife Margie got emotional when I was booted out of their office. With tears in her eyes, she gave both a hug and told them how much she appreciated them and cared for them."
"When we finally discharged T, it was a happy time and truly an emotional moment for everyone involved," Dr. Ho says. "Both Dr. Karni and I have gotten to know him and his family very well, and he's become a part of our lives. The day we discharged him from the clinic, we all had a group hug. It was a bittersweet moment."
As a subspecialist in oncological head and neck surgery, Dr. Karni follows his cancer patients for five years and often longer. "Surgery is the smallest thing I do in the life of a cancer patient," he says. "I give them the diagnosis, then I stay with them and monitor them for years to come, through office visits, follow-up scans and evaluation of the results. We spend hours together. The first few times they come to the office, it's about treatment. The last 20 or so times you get to know them personally. T is such an interesting person. He always comes over and gives me a hug and asks me how my family is doing. When I leave the exam room, I feel like I should thank him. A success story like his gives us tremendous pleasure as physicians. It's a deeply personal relationship, and I always walk out of the room feeling better.
"It's rewarding and heartwarming to see someone who has faced the specter of death, gone through a massive surgery and risen above it," Dr. Karni says. "T reminds me of why we're in medicine. He's not just a survivor. He's a superhero."
---