In 2014, Houston-based MicroSeismic, Inc., made a $50,000 donation to the Memorial Hermann Foundation to help Children's Memorial Hermann Hospital and the Department of Otorhinolaryngology at UTHealth Medical School provide hearing aids to underserved pediatric patients in the Greater Houston area. Just weeks later, eight-year-old Victor Herrera was the first beneficiary of the company's generous gift.
Victor has worn hearing aids since he was four, when his mother Priscilla Herrera scheduled a hearing test after she noticed that he did not appear to be listening. He was diagnosed with moderate-to-severe sensorineural hearing loss in his right ear and profound loss in his left ear, and he then received hearing aids.
In 2013, Herrera's purse and Victor's hearing aids were stolen from her car. "Hearing aids are expensive, and we were trying to figure out how to get them replaced as quickly as possible. He'd been without them for about four months and was getting behind in school when I was surprised by a phone call from UTHealth Audiology saying he qualified for help from the MicroSeismic grant."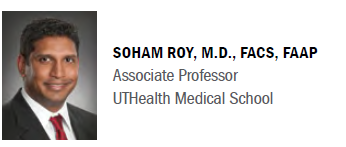 "The medical cost of hearing aids starts at around $1,000," says Soham Roy, MD, FACS, FAAP, director of pediatric otorhinolaryngology at Children's Memorial Hermann Hospital and an associate professor at UTHealth Medical School. "Some underfunded children in Texas cannot qualify for hearing aids under Texas Medicaid programs, which leaves many families unable to afford the expense required to correct their child's hearing. Hearing loss affects speech and language skills, which can lead to learning problems, social isolation and poor self-esteem, all of which have a detrimental effect on a child's development. Thanks to the generosity of MicroSeismic, children like Victor who might have fallen through the cracks can overcome obstacles resulting from hearing impairment."
Priscilla Herrera is grateful for the help Victor received. "I'm so thankful to everyone who has helped us through this hard time," she says. "It's a wonderful experience to know that people care."
Since Victor received his replacement hearing aids, 13 other children have been tested and fit using funds from the MicroSeismic grant, including four-year-old Raniyah Stevenson and five-year-old Isabella Garcia, both of whom are first-time hearing-aid users.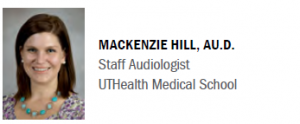 "Raniyah passed her newborn hearing screening and initially had normal speech-language development," says Mackenzie Hill, Au.D., one of three audiologists at UTHealth Audiology. "It wasn't until her speech became less and less intelligible, especially to familiar listeners – and she needed constant repetition from her mother – that concerns for her hearing arose."  Raniyah's mother Janeika Moore also noticed that her daughter kept turning up the volume on the TV and always spoke in a louder-than-normal voice. When Moore scheduled a speech and hearing evaluation, her daughter failed the hearing screening, and then Raniyah underwent a comprehensive audiological evaluation which confirmed a diagnosis of mild-to-severe sensorineural hearing loss in the right ear and severe-to-profound hearing loss in the left ear.
"Within a three-month period, this little girl went from having her hearing loss identified by UTHealth Audiology and was fit with hearing aids through the MicroSeismic grant," Dr. Hill says. "Raniyah received bilateral behind-the-ear hearing aids and chose a fashionable transparent purple color for the devices. She designed her ear molds with purple glitter, so that her ears are as sassy as she is." Follow-up testing revealed a 30-decibel improvement with the hearing aids compared to her unaided thresholds to sound and speech.
Today, Raniyah recognizes the sounds she was missing, her mother says. "She's been doing speech therapy through school since November 2013 and is catching up to where she needs to be," Moore says.
Isabella Garcia, another beneficiary of the MicroSeismic grant, was diagnosed with bilateral mild sensorineural hearing loss. "We wanted to move quickly because we knew that hearing loss, even if it's mild, can have negative effects on school performance and social and emotional development," says her mother Crystal Hunter. "As long as she's wearing her hearing aids she's good, but without them sounds are muffled."
Isabella wears binaural "open-fit" behind-the-ear hearing aids. "She chose pink devices and decorated them with stickers," Dr. Hill says. "During her initial follow-up appointments we determined that amplification was providing ample benefit. Her most recent test revealed a 30- to 40-decibel improvement in hearing compared to her unaided thresholds to sound and speech. With hearing aids she can now hear at normal levels."
Hearing loss is one of the most common abnormalities at birth with an incidence of one in 10,000 to one in 12,000 live births in the United States. "It's also believed that the percentage of children with permanent hearing loss is much higher – three in 1,000," Dr. Roy says. "The numbers are variable based on the source. The bottom line is that early detection is crucial. Kids who are identified early have better outcomes in terms of speech, meeting appropriate developmental levels and academic progress.
"Unfortunately, in Texas many Medicaid plans don't provide hearing aid coverage, which means that a lot of families don't have access to testing and appropriate therapies," he adds. "With this grant we can provide hearing aids for kids who otherwise might not get them. The MicroSeismic people believe in advancing technology and in giving back. They believe in helping children who otherwise wouldn't be helped. Thanks to their generosity we'll be able to help 20 to 25 children this year. It's been the highlight of my year to be able to provide what these kids need to improve their lives."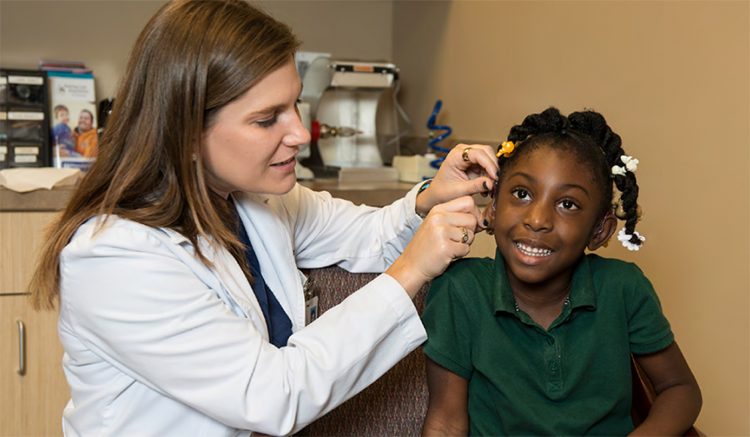 ---