Profile in Caring: José Elías, RN, CORLN
---
---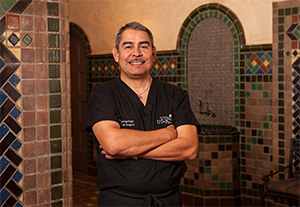 When José Elías was 10 years old, his mother, a Red Cross nurse, began making neighborhood house calls after hours to care for the sick in their hometown of Nuevo Laredo, Mexico. She went where she was needed late in the evening and asked José, the eldest boy and the second of seven children, to accompany her.
"I have vivid memories of watching her boil the syringe and put it in a container with alcohol and cotton balls," Elías says. "I saw the satisfaction she gained from helping the community, and the gratitude of the people she helped. I thought I would like to be, if not a doctor, then a nurse."
Elías and his family immigrated to the United States in 1981, during his sophomore year in high school, and settled in Northwest Houston. "The transition was difficult," he recalls. "I was a teenager and didn't speak English. We had to learn a new language and a new way of living. That's a hard age to absorb and adjust to such a change."
After graduation, he held various jobs, all of which he found unsatisfying. "I still had the desire to do something for the community," he says. "I wanted to go home at the end of my work day and know that I had helped people, so I enrolled in the medical assistant program at Texas School of Business."
In 1997, he accepted a position as office manager for the Center for Ear, Nose and Throat operated by University of Texas (UT) Physicians. At the age of 37, while working as a medical assistant at another UT Physicians clinic, he enrolled in the Associate Degree of Nursing (ADN) program at Lone Star College in Houston.
After completing his first year of nursing school, Elías, a United States Navy Reserve corpsman, volunteered to serve his country in Operation Iraqi Freedom. From May 2004 through April 2005, he was assigned to a Marine battalion aid station in Iraq, not far from the Syrian border, where injured soldiers were sent from the front for evaluation and triage back to action, to hospital care or to home. Following his tour of duty, he resumed his nursing studies, graduating with his ADN degree in 2006.
That same year, he was hired as a pediatric clinical nurse in the department of Otorhinolaryngology's ENT Clinic, fulfilling a lifelong dream. "ENT has always attracted me because of the variety of patients we see – from children to adults – with problems that range from common to complex, from acute trauma to chronic issues," he says. "In the 21 years I've been associated with UTHealth Medical School, I've seen dramatic advances in the technology we use and the quality of care we provide our patients."
During that time, he has worked with five ENT department chairs, including Martin J. Citardi, MD, FACS, who is chief of otorhinolaryngology at Memorial Hermann-Texas Medical Center and professor and chair of the department of Otorhinolaryngology—Head and Neck Surgery at UTHealth Medical School. Dr. Citardi's practice has grown exponentially since his arrival in 2006.
"Originally, we planned to recruit two new physicians a year, but within two years after Dr. Citardi's arrival we had added eight doctors," Elías says. "We moved from the UT Professional Building, where we had four exam rooms, to the Memorial Hermann Medical Plaza, where we have 17 rooms. As the practice grew, we hired more support staff."
In 2007, Elías was promoted to nurse coordinator of the Texas Medical Center office. A year later, he moved up to the nurse manager position for the department of Otorhinolaryngology—Head and Neck Surgery.
"José has grown with our practice, developing new skills as he assumed more managerial responsibility," Dr. Citardi says. "His help in setting up operations for a very complex outpatient clinic where we do many procedures has been invaluable. I can't begin to say enough good things about José's contribution to our practice – and the patients love him."
Today, Elías supervises the work of nine medical assistants and manages two clinics with 12 affiliated physicians. He's a devoted husband and the father of three children, two of whom live at home. He's also enrolled in the RN to BSN program at The University of Texas at Arlington, which he expects to finish by the spring of 2016.
"It's tough to balance it all – working fulltime, raising a family and finding time to write papers and study for weekly exams," he says. "I do it because I believe there's a purpose in life. I want to be remembered as someone who made a contribution to medicine and also to the community. I'm fortunate to work in a great practice with doctors who are working to transform medicine. As a nurse, I want to know that my patients are satisfied with their care. I also enjoy the teaching aspects of nursing and take extra time to make sure patients understand how they can stay healthy."
Elías is an active member of the Houston Chapter of the Society of Otorhinolaryngology—Head and Neck Nurses. As a certified otolaryngology nurse (CORLN), he encourages other nurses in the ENT community to take the certification exam. "It's our responsibility as nurses to keep growing – for our patients and ourselves."
---