Current Pediatric Guidelines for Tonsillectomy
---
---
Tonsillectomy is the third most common procedure performed on children in the United States – after circumcision and myringotomy with pressure-equalizing tube placement (also known as "PE tubes") – with more than half a million annual procedures in pediatric patients younger than age 15.  A guideline released by the American Academy of Otolaryngology—Head and Neck Surgery (AAO-HNS) in 2011 has resulted in safer surgery and improved the quality of life for children with large or infected tonsils.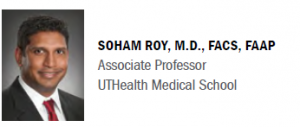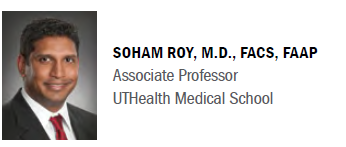 Soham Roy, MD, FACS, FAAP, director of pediatric otolaryngology and quality officer in the department of Otorhinolaryngology—Head and Neck Surgery at UTHealth Medical School. "The current statement is the first – and only – national evidence-based guideline on tonsillectomy in the United States."
Intended for all clinicians in any setting who interact with children aged 1 to 18 years who may be candidates for tonsillectomy, the AAO-HNS guideline was created by a multidisciplinary panel, including consumers and healthcare professionals representing otolaryngology—head and neck surgery, pediatrics, family medicine, anesthesiology, sleep medicine, infectious disease and nursing. It notes that most children with frequent throat infections get better on their own, making watchful waiting the best choice for children with fewer than seven episodes of tonsillitis in a year, five episodes a year for two years in a row, or three episodes a year for three consecutive years. The panel agreed that tonsillectomy can improve quality of life and reduce the frequency of severe throat infection in cases where these conditions are present.
According to the guideline, certain children with less frequent or severe throat infections may still benefit from tonsillectomy if there are moderating factors, including antibiotic allergy/intolerance, a history of peritonsillar abscess or PFAPA syndrome (periodic fever, aphthous stomatitis, pharyngitis and adenitis).
Because large tonsils can obstruct breathing at night and cause sleep-disordered breathing (SDB), physicians should ask parents of children with large tonsils and SDB about growth delay, poor school performance, bedwetting and behavioral problems.
On the use of medication, the guideline states that physicians should give a single intravenous dose of dexamethasone during tonsillectomy to reduce pain, nausea and vomiting after surgery. They should not routinely prescribe antibiotics to improve recovery following surgery – there are associated risks and side effects, and medical studies show no consistent benefits over placebo.
"As a result of the guideline, clinicians can better identify the best candidates for tonsillectomy – and those who are not," says Dr. Roy, whose clinical interests are airway disorders in children, neonatal airway surgery, hearing loss, tonsil and adenoid disorders and neck masses in children. "It has also allowed physicians across the country to optimize care, improve quality, minimize harm and reduce inappropriate variations in care."
---