Surgical Fire Prevention in Laser Laryngeal Surgery
---
---
Operating room fires pose a significant risk of harm to surgical patients, particularly in head and neck procedures involving the airway. In the cover article of the January 2015 issue of Otolaryngology-Head and Neck Surgery, Soham Roy, MD, FACS, FAAP, director of pediatric otolaryngology at UTHealth Medical School and Children's Memorial Hermann Hospital, and his research partner Lee P. Smith, MD, reported their findings after testing "laser-safe" endotracheal tubes in a mechanical model of laser laryngeal surgery to evaluate the fire risk (1).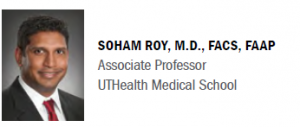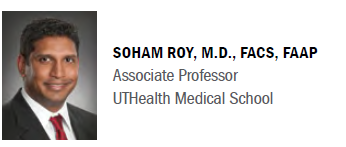 "Procedures involving the face, head and neck pose the greatest danger for operating room fire due to the combination of exposed supplemental oxygen, flammable materials and ignition sources like cautery devices and lasers – the fire triad," says Dr. Roy, an associate professor of pediatric otolaryngology-head and neck surgery and an internationally recognized expert in operating room safety issues.
In 2008, Dr. Roy and Dr. Smith surveyed members of the American Academy of Otolaryngology-Head and Neck Surgery about their experience with surgical fires (2).  A quarter of the respondents had witnessed a fire in the operating room, and the frequency of fires was comparable in several procedures, including endoscopic airway surgery, oropharyngeal surgery, cutaneous surgery and tracheostomy. Eighty-five percent of the fires occurred in the presence of oxygen. That same year, the American Society of Anesthesiologists (ASA) issued a practice advisory about the prevention and management of operating room fires.
"Airway fires remain a potentially serious threat during laryngeal surgery, with numerous fires reported in the last few years alone," says Dr. Roy, whose longstanding interest in improving operating room safety led to his appointment in 2011 as a medical consultant for the U.S. Food and Drug Administration's Preventing Surgical Fires initiative. "Some fires have resulted in minimal damage but others have caused serious patient injury."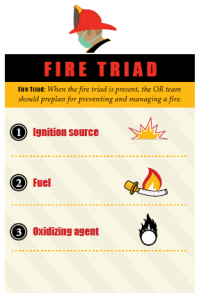 In their current study, Dr. Roy and Dr. Smith, who trained under Dr. Roy at the University of Miami Miller School of Medicine and is now chief of pediatric otolaryngology at Cohen Children's Medical Center in Long Island, New York, positioned "Airway Larry," a mannequin model traditionally used for airway management training, on an operating table. They placed a laser-protected cuffed endotracheal tube through the larynx of the model, inflated the cuff using saline and used a CO2 laser to create an inadvertent cuff strike in five trials at various oxygen concentrations. After analyzing their data, they concluded that fire remains a serious risk for patients undergoing otolaryngology procedures, particularly endoscopic laser airway surgery.
"As with any potential hazard, awareness is the first step in prevention," Dr. Roy says. "Careful attention to the inherent risks of fire in the OR and a calculated team approach between OR nurses, surgical technologists, surgeons and anesthesia providers is critical in preventing serious harm. Before each surgical case, the OR team should determine if the case is at high risk for a surgical fire. If the fire triad is present, the team should preplan for preventing and managing a fire."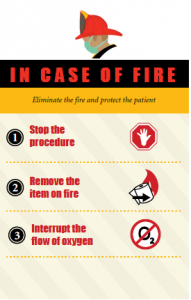 To reduce the risk of fire substantially, Dr. Roy and Dr. Smith recommend performing endoscopic laser airway surgery without an endotracheal tube and without supplemental oxygen. They also recommend having a well-prepared plan for removing the endotracheal tube, eliminating oxygen and flammable gases and extinguishing the fire to reduce damage if fire occurs. "If a fire occurs, the staff should act quickly and calmly to extinguish it and protect the patient from injury," he says.
In his role with the FDA, Dr. Roy helps identify barriers to safe practices with the ultimate goal of engaging all hospitals in developing specific, tangible interventions to reduce surgical fires. "We estimate that as many as 1,000 events may go unreported each year," he says. "As part of the FDA's Preventing Surgical Fires initiative, we'd like to reduce that number to zero. 'One is too many' is our tagline for the initiative."
Dr. Roy strongly encourages organizations to report surgical fires as a means of raising awareness and ultimately preventing future fires. Reports can be made to the Joint Commission, the ECRI Institute, the FDA and state agencies, among other organizations. "While airway fires are a significant risk in the OR, through awareness, use of the proper tools and preventive measures, we can easily avoid them."
A podcast for "Surgical Fires in Laser Laryngeal Surgery: Are We Safe Enough?" is available at https://journals.sagepub.com/home/oto.
To hear the podcast, scan this code with your phone.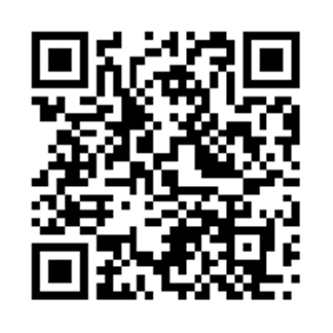 References
Roy S, Smith LP. Surgical Fires in Laser Laryngeal Surgery: Are We Safe Enough? Otolaryngology-Head and Neck Surgery. 2015;152(2):67-72.
Smith LP, Roy S. Operating room fires in otolaryngology: Risk factors and prevention. American Journal of Otolaryngology, 2011. Mar-Apr;32(2):109-14.
---