AAO-HNS President Speaks at Otorhinolaryngology Frontiers 2015
---
---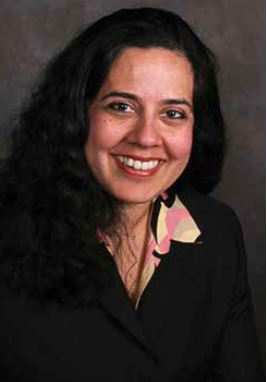 Sujana S. Chandrasekhar, MD, FACS, FAAO-HNS, president of the American Academy of Otolaryngology-Head and Neck Surgery (AAO-HNS), was the guest speaker at Otorhinolaryngology Frontiers 2015, an annual event highlighting research endeavors and emerging technology in the diagnosis and management of common otolaryngologic clinical problems. More than 80 physicians and other healthcare professionals attended the event, which was held on June 27, 2015, at the Brown Foundation Institute of Molecular Medicine of The University of Texas Health Science Center at Houston, and sponsored by the Department of Otorhinolaryngology-Head and Neck Surgery at the McGovern Medical School.
"This event was very well attended – one of our most popular ORL Frontiers presentations to date," says Amber Luong, MD, PhD, associate professor and research director in the Department of Otorhinolaryngology-Head and Neck Surgery who also directs a laboratory at the Brown Foundation Institute of Molecular Medicine for the Prevention of Human Diseases. "Dr. Chandrasekhar delivered a very inspirational address on the pathway to leadership, which is often through adversity."
Dr. Chandrasekhar is the third woman and the first person of Indian descent to hold the office of president of the 12,000-member organization. Previously she served as chair of the AAO-HNS Board of Governors.
Dr. Chandrasekhar attended medical school at Mount Sinai School of Medicine in New York City, graduated at the age of 22 and completed her residency in otolaryngology-head and neck surgery at New York University Medical Center in New York. She completed her fellowship in otology and neurotology at the House Ear Clinic and Institute in Los Angeles California. She served on the fulltime academic faculty of both UMDNJ-New Jersey Medical School and Mount Sinai School of Medicine before entering private practice in New York City in 2004. She is currently director of New York Otology, director of neurotology at the James J. Peters Veterans Administration Medical Center, otologist/neurotologist at the New York Head and Neck Institute and voluntary faculty at Mount Sinai. As such, she is at the clinical forefront in management of disorders of hearing, balance, tinnitus, facial nerve and lateral skull base, as well as cochlear and BAHA implants. She is the medical director of the Vestibular Disorders Evaluation Clinic at the Bronx VA Hospital, a multidisciplinary team created to rapidly and thoroughly assess and treat patients with complex dizziness disorders, especially those returning from active duty. She is currently building the Comprehensive Balance Center at Lenox Hill Hospital/Manhattan Eye Ear and Throat Hospital.
Dr. Chandrasekhar presented on two topics: "Evidence-based Management of Sudden Sensorineural Hearing Loss" and "The ABCDs of Leadership Success in ENT."
The following presentations also were made at ORL Frontiers by the Department's faculty and residents:
"Management and Complications of Tympanostomy Tubes in Head and Neck Cancer Patients" by Jaecel Shah, MD
"Ear Disease: A Pictorial Review of 30+ Years" by Terry Owens, MD, assistant professor
"Applications of Transoral Robotics Surgery in the Pediatric Airway" by Jay Ferrell, MD
"When and What to Pack After Sinus Surgery" by Amber Luong, MD, PhD, FACS, associate professor
"SCOPIS to Assist Understanding Frontal Sinus Anatomy" by Abib Agbetoba, MD
"Update on Otitis Media and Tympanostomy Tubes" by Soham Roy, MD, FACS, FAAP, associate professor
"Lower Eyelid Tightening with the Kuhnt-Szymanowski Repair: An Adjunct to Lower Eyelid Blepharoplasty" by Regina Rodman, MD
"Case Presentations" by Jo-Lawrence Bigcas, MD
"Transoral Laser Microsurgery and Transoral Robotics Surgery: A Synthesis of Techniques and Technologies" by Ron Karni, MD, assistant professor
"Pendant Drop Tensiometry for Measuring Surface Tension Effects of Sinus Rinses on Rhinosinusitis Mucus: A Pilot Study" by Jo-Lawrence Bigcas, MD
---