Behind the Scenes with the Surgery Schedulers
---
---
Surgery scheduling is a critical component of patient care, a complex process of coordinating patients' personal schedules and needs, surgeons' schedules, access to hospital facilities and insurance authorizations. If even one element of the process fails, the patient's care plan stops. When everything goes smoothly, the schedulers are an invisible part of the ENT team.
"In many ways surgery schedulers are the unsung heroes in a surgical practice," says Martin J. Citardi, MD, professor and chair of the Department of Otorhinolaryngology-Head and Neck Surgery at the University of Texas McGovern Medical School at Houston and chief of the ENT service at Memorial Hermann-Texas Medical Center.  "Our schedulers – Nicole Scallion and America Macias – make the very complex coordination of schedules look easy.  They're strong team players and provide great service to our patients and physicians."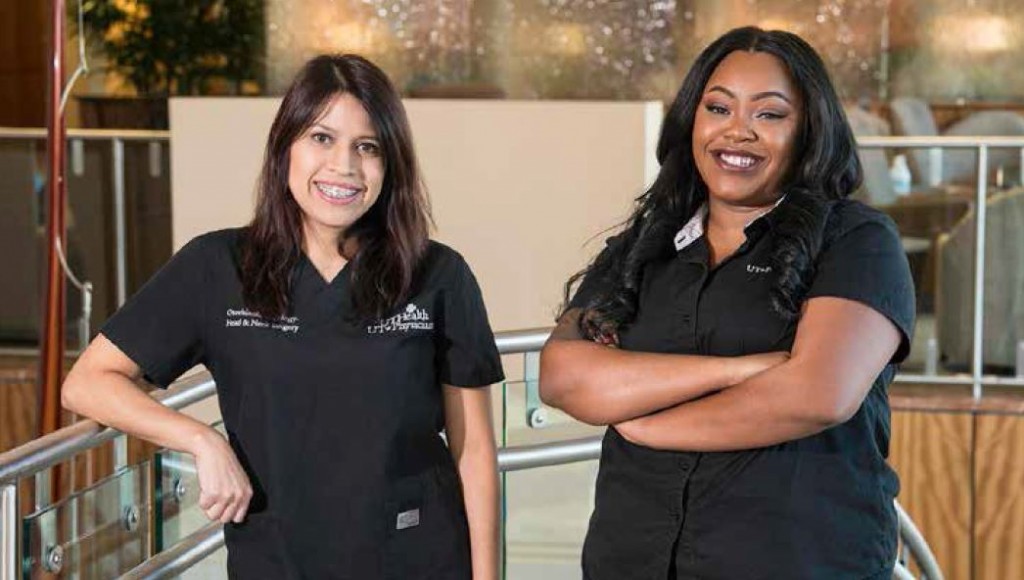 Nicole Scallion, who joined the Department three years ago, has been scheduling surgeries for the past two years. As the Department's practice has grown, so has her workload.  Today she schedules surgeries at five facilities for six physicians – facial plastic and reconstructive surgeon Tang Ho, MD, head and neck cancer specialist Ron Karni, MD, rhinologist and researcher Amber U. Luong, MD, PhD, rhinologist William C. Yao, MD, and head and neck cancer/reconstructive surgery specialist Kunal Jain, MD, in addition to Dr. Citardi.
"I'm a really big people person," Scallion says.  "I had always wanted to work in the medical field and when I got the opportunity to work in the ENT Clinic, I jumped at the chance.  Every day is different, depending on which doctors are in clinic. . If I have a day with Dr. Citardi, Dr. Luong and Dr. Yao – the rhinologists – it's usually calmer.  When Dr. Karni, Dr. Ho and Dr. Jain are in clinic, it's always a busy day because they maintain active surgery schedules and many of their cases take eight to 12 hours or longer.  If one of the doctors wants to coordinate with other physicians, it can be complicated to get them all together in the OR and work around the patient's schedule. Sometimes we have to do a little back and forth."
America Macias, CMA, joined the practice as a medical assistant for pediatric otolaryngologists Sancak Yuksel, MD, and Soham Roy, MD, FACS, FAAP, director of pediatric ENT and quality officer for the Department.  Today she schedules surgery for three other otolaryngologists as well: Ibrahim "Trey" Alava, MD, Ronda Alexander, MD, director of the Texas Voice Performance Institute™, pediatric otolaryngologist Zi Yang Jiang, MD.
After completing a nine-month medical assistant program at Everest Institute in Austin, Texas, Macias spent four and a half years gaining experience at two ENT practices before joining Dr. Citardi's group in September 2013.
"I enjoy working with patients," she says.  "As an medical assistant I developed a knowledge base about various medical conditions and procedures.  If a patient sits with me to schedule a surgery, I can answer other questions for them as well.  Because I schedule for the pediatric ENTs, I meet with parents and help them work through any time constraints.  They want their child to miss as little school as possible, so we do the best we can to work around their schedules."
Most surgeries require insurance authorizations and in some cases the schedulers work on very short notice, particularly when an urgent case is added on to an OR day already scheduled.  Once the patient is scheduled for surgery, Scallion and Macias verify insurance. .
"If there's a physician fee, we let patients know in advance," Macias says. "Sometimes the physician is out of network for a particular patient's private insurance or Medicaid plan.  Some patients decide to stay with the physician and change to another insurance plan."
Both women say they derive much satisfaction from grateful physicians and patients.  The physicians are always appreciative and complimentary," Scallion says.  "Once the patients have had surgery, many of them – especially the cancer patients – stop by and say thank you so much for getting my surgery scheduled.  The demands on us are often great but so are the rewards."
---