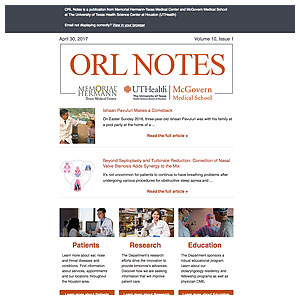 As we ended last year and began to contemplate our priorities for the current year, we reviewed ORL Progress Notes, which was first released in 2008. Our newsletter has had both print and email distribution; however, over the past several years, the digital reads have become much more popular than the print version. We also observed that the bulk of readers are relying upon "small screens" (i.e., smart phones and tablets) to read our material. Finally, while our email newsletter had been optimized for mobile devices a few years ago, it still did not fulfill current aesthetic and functional expectations. Thus, we concluded that we needed new design.
One obvious change is that the newsletter has a new name—ORL Notes—in place of ORL Progress Notes. We have also chosen to recognize both Memorial Hermann-Texas Medical Center and UTHealth prominently in the header; our Department works at the intersection of these two great institutions, and our success is a result of a collaborative effort. Finally, the new format will allow us to include an image for each post so that readers can get a glimpse into the article.
We have also chosen to end production of the print journal. In its place, we will develop more content for posting on our website—which will also be re-released with a new design later this year.
Regardless of these changes, the newsletter's purpose remained the same. ORL Notes will continue to provide a window into the daily work of the Department—its clinical activities (with an emphasis on the patients under the care of the Department's physicians), educational activities and research endeavors.
We hope that you enjoy ORL Notes. Feel free to share your views by emailing us at UTHealthORL@uth.tmc.edu.
Martin J. Citardi, MD
Professor & Chair, UTHealth Otorhinolaryngology
Chief of Otorhinolaryngology-Head & Neck Surgery, Memorial Hermann-TMC
---