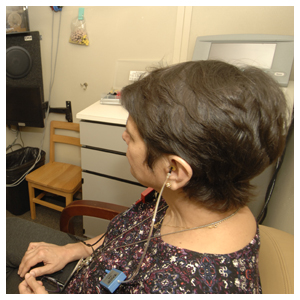 The Audiology team at UT Physicians Otorhinolaryngology – Texas Medical Center held a well-attended, daylong open house January 12, 2017, for individuals in the community living with hearing loss.  In addition to free hearing screenings and hearing-aid consultations, the department offered a discount on hearing aids purchased during the event.  Attendees had the opportunity to try out the latest technology and learn firsthand about recent advances.  A featured product was Widex's Beyond Fusion receiver-in-the-canal (RIC) hearing aid, which directly connects to Apple's iPhone for hands-free phone and video/audio streaming through the device.
"As always, our top priority is to diagnose, treat and educate people with hearing loss to improve their quality of life by reconnecting them with people and the world around them," says Mackenzie Hill, Au.D. "By opening our doors, we hoped to remove any hesitation individuals may have that prevents them from seeking help in hearing and to show that, in the modern age, untreated hearing loss is more noticeable than wearing hearing aids."
The event was held at UT Physicians Otorhinolaryngology-Texas Medical Center, a clinical practice site for the Department of Otorhinolaryngology-Head & Neck Surgery at McGovern Medical School at UTHealth.
---