Otorhinolaryngology and Neurosurgery Team Up to Maximize the Outcome for a Patient with Pituitary Tumor
---
---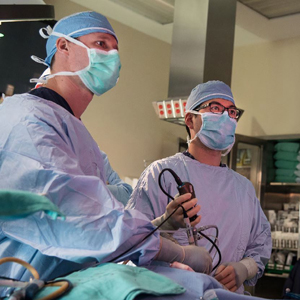 After an unexplained "brain glitch" led to the discovery of a large pituitary tumor, retired corrosion engineer Niell Strickland joined the ranks of patients who have benefited from the teamwork of rhinologist William Yao, MD , and neurosurgeon Spiros Blackburn, MD. The two specialists work together at Memorial Hermann-Texas Medical Center to ensure a smoother road to recovery and improve outcomes for patients with pituitary and skull base tumors and disorders.
Strickland first noticed a problem in December 2015 while he and his family celebrated his wife's birthday over lunch after church. "We placed our orders and were sitting at the table visiting, and I suddenly had difficulty articulating," he recalls. "I could think clearly but couldn't make the words come out. The event passed in a minute or two without anyone noticing, and I was back to normal."  He alerted his wife, and a few days later they saw his primary care physician, who referred them immediately to neurologist Hazan Machkhas, MD. "Dr. Machkhas sent me for an MRI the same day and called me early that evening with the results," he says. "While they didn't find anything that might have directly contributed to the event on Sunday, they did find a very large pituitary tumor."
Strickland was seen by neurosurgeons Dong Kim, MD , director of the Memorial Hermann Mischer Neuroscience Institute at the Texas Medical Center, and Spiros Blackburn, MD who specializes in cerebrovascular and skull base surgery and has special expertise in both endoscopic and endovascular neurosurgery.   "I learned that the tumor was situated diagonally on the pituitary gland, pushing the right optic nerve upward and outward," says Strickland, who is 75. "There was some question of involvement with the left optic nerve. Dr. Blackburn asked that I have my ophthalmologist test for loss of peripheral vision – there was none, which was surprising considering the size of the tumor. He also referred me to Dr. Yao."
An assistant professor in the Department of Otorhinolaryngology-Head and Neck Surgery at UTHealth's McGovern Medical School, Dr. William Yao joined the faculty after completing a fellowship in rhinology and anterior skull base surgery at Massachusetts Eye and Ear Infirmary/Harvard Medical School. He has coauthored numerous articles published in peer-reviewed journals, as well as chapters on the surgical management of encephaloceles and skull base surgery in Head and Neck Surgery (2nd edition) and ENT Secrets (3rd edition).  "In addition to the pituitary tumor, Mr. Strickland had recurrent sinus issues and a deviated septum," Dr. Yao says. "Thanks to our collaboration with neurosurgery, we could take care of everything in a single minimally invasive procedure. I do the sinus surgery and provide access to the brain, obtaining a large exposure that allows Dr. Blackburn to completely remove the tumor while minimizing injury to the pituitary gland. Our use of angled endoscopes allows for greater magnification and a superior field of view compared to the traditional surgery using a microscope – and a safer and more complete resection."
In the years they've worked together, the two surgeons have collaborated on dozens of procedures. "We're in sync," Dr. Yao says. "We augment each other's surgical skills and expertise. I create a favorable approach that allows Dr. Blackburn the access he needs to remove the tumor in its entirety. Because of the frequency with which we operate together, we know each other's moves. It's harmony between two specialties, like a symphony with multiple instruments. While our knowledge sets overlap, they're completely different. By working with him, I learn about neuroanatomy from the neurosurgery perspective. Our partnership is such that if there is something that concerns either of us, we can drop in and help each other out at any time."
Dr. Blackburn, who completed a cerebrovascular fellowship at Emory University and a neurointerventional endovascular fellowship at Mallinkrodt Institute of Radiology at Washington University, agrees. "Some neurosurgeons do these cases by themselves, but we tend more toward the team approach," he says. "Our surgical skill sets overlap. Dr. Yao can do a better approach and has expertise with the endoscope. For the first part of the surgery I assist. We arrive at the sella together, and then I take over as the primary surgeon and he assists during the tumor resection. Then I assist again while he closes. My fellowship training gives me a great familiarity with transsphenoidal and anterior skull base approaches, which is important, but partnering with Dr. Yao is extremely valuable in complex cases. I can ask Dr. Yao, if we use a particular intranasal approach for better exposure, how will it impact the patient's recovery?"
After Dr. Blackburn removed Strickland's tumor, Dr. Yao reconstructed the barrier between the brain and the nose using dural regeneration matrix as a graft. "I harvest a lining of tissue from the nasal cavity on the right side," Dr. Yao says. "Once everything heals, the overlay graft comes together and creates a new mucosal lining to reestablish the barrier between the nose and the brain."
Working together, the two surgeons were able to completely remove the pituitary tumor, which measured 2.5 centimeters in diameter. "It was an incredibly delicate surgery," says Strickland, who has an engineer's interest in the surgical process. "The tumor came out nicely and without complication. I spent 24 hours in the Neuroscience ICU and then a couple of days while we waited for the hormone test results to come back. When they came back with good numbers, I was discharged."
Dr. Yao has an appreciation for patients who take an interest in their surgeries. "We go into the OR together," he says. "The patient is an important member of the team, so it's great when we're on the same page. Because no two patients are alike, we tailor the approach and exposure to the individual based on the size of the tumor and its location. When we use the endoscopic approach, recovery is faster and better tolerated by the patient. The three-day hospital stay gives us time to make sure the patient hasn't developed a hormone deficiency after surgery and to ensure that there are no brain fluid leaks. From a strictly surgical recovery standpoint, most patients could be discharged home the same day. In Mr. Strickland's case, his recovery time was decreased and his nasal congestion was resolved as an added benefit of using the endoscopic approach to access the pituitary."
A follow-up MRI confirmed that Strickland's right optic nerve was back in place, with no involvement of the left optic nerve. He scheduled an exam with his ophthalmologist to confirm that there was no deterioration of his peripheral vision following the procedure.
Strickland believes the brain glitch he experienced at his wife's birthday celebration led to the discovery of the tumor before it resulted in vision loss. "A week after surgery I was out walking in the neighborhood, and two or three weeks later I was back on the treadmill," he says. "A month after my discharge Dr. Blackburn gave me the go-ahead to return to my regular workout routine at the gym. I'm eternally grateful to both doctors for their skills and the time they spent developing them. They were both awesome. Right now I consider them among my best friends."
---