UT Physicians Otolaryngology at Texas Medical Center Clinic Redesign Improves the Patient Experience
---
---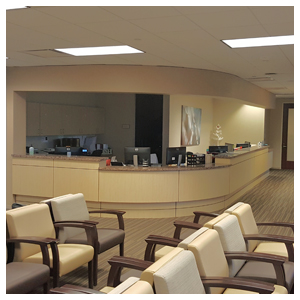 With a 50 percent increase in faculty in the Department of Otorhinolaryngology-Head & Neck Surgery at McGovern Medical School at UTHealth over the last three years and the resulting growth in patient visits, a redesign of the UT Physicians Otorhinolaryngology-Texas Medical Center clinic was in order.
"We felt that we were very quickly growing out of our space," says Don Venker, director of management operations at the Texas Medical Center clinic in the Memorial Hermann Medical Plaza. "We had one small counter for patient check-in and another for checkout. There were also floor-to-ceiling cabinets from the original construction that made it difficult for patients to navigate from the waiting room to exam rooms. As part of our clinic redesign, we replaced the front desk with one long, sweeping, rounded countertop that's set back to allow more space for in-and-out traffic. The new counter is more inviting and helps patients feel that we are more approachable. Plus we were able to double the number of patients checking in and checking out at any given time. The flow from front to back is much smoother now and has resulted in a noticeable improvement in patient satisfaction."
The 11,324-square-foot clinic accommodates 15 physicians, four audiologists, eight front-desk staff members, 14 medical assistants, 6 back-office staff and 3 billing staff. The space includes 17 exam rooms and four audiology booths.
Removal of a large, nonstructural pillar in the center of the waiting room also gave it a more spacious feel.  New furniture and new paint improved the look.
The department also benefited from an assessment by COACH, a UT Physicians group with the ultimate goal of ensuring that all clinic operations function smoothly. The COACH team assists departments in implementing best practices so that they function as model clinics in all areas of patient care delivery.
These combined efforts culminated in improvements in patient handoffs from the front to the back and higher employee morale. "We significantly improved our efficiency in the clinic," Venker says. "We strive to put our best foot forward as a practice so that we are able to attract and retain top-notch physicians and staff. Providing a first-class working environment shows that we care and are committed to doing so."
As a result of improvements in customer service, Venker says the overall patient experience has improved.  "We've seen a steady, sustained improvement in our Press Ganey scores over the last 24 months. It's been a win-win for us."
---