Revision Sinus Surgery Sets the Stage for a Successful Outcome
---
---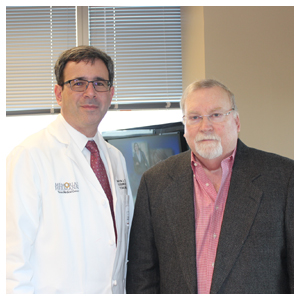 Revision endoscopic sinus surgery presents challenges not often seen in primary surgeries. Rhinologists at Memorial Hermann-Texas Medical Center and McGovern Medical School at UTHealth routinely treat refractory conditions in patients from Houston as well as the entire state of Texas.
Among patients who have benefited from the expertise of Martin J. Citardi, MD, professor and chair of the Department of Otorhinolaryngology-Head and Neck Surgery at McGovern Medical School at UTHealth, is Les Tarrance, who had a lifetime history of sinus and pulmonary problems.
"Twice a year, in the late spring and early fall, I would get a bad respiratory infection and cough up yellow and green mucus to the point that it became embarrassing," Tarrance says. "For the past 15 years, I've seen an allergist near my home who prescribed an antibiotic and prednisone. The combination always worked. Then in 2011, sometime before Thanksgiving, the treatment didn't help. We tried another 14-day course, but the medication still didn't knock it out. Finally my daughter, a registered nurse, said, 'Dad, you look terrible. You're going to the hospital.'"
Tarrance was admitted for tests and released without a definitive diagnosis. His attending physician recommended sinus surgery. Ten days after the surgery, he was coughing up yellow mucus again. He saw a pulmonologist who diagnosed him with bronchiectasis, a lung condition characterized by a chronic process of destruction of bronchial air passages, which causes them to build up mucus and bacteria. Despite an eight-week breathing rehab program that included the use of a breathing vest as well as regular nebulizer treatments, the coughing continued.
"One of my best friends went to a heart specialist at Memorial Hermann-Texas Medical Center, who suggested I see Dr. Citardi," Tarrance says. "I looked him up, saw that he was the head of the department and called to make an appointment. Over the years, every time I had a bad episode, my doctor would prescribe an antibiotic. I always thought, 'Isn't there something different we can do?' The first time I saw Dr. Citardi, he wanted to culture the mucus. I'd been waiting for someone to say that for 15 years."
In January 2017, Dr. Citardi performed a revision endoscopic sinus surgery. "The procedure is very common in my practice," he says. "It sets the stage for any treatment that follows."
Following the surgery, Tarrance improved for a while and then began to relapse. "The subtype of sinusitis he has was likely to respond to macrolide therapy," Dr. Citardi says. "We prescribed clarithromycin twice a day with the goal of reducing the dose and stopping the medication in four to six months. When he relapsed, we restarted it."
Tarrance calls clarithromycin his miracle drug. "It cleared up my sinuses and to my surprise, it cleared up my lungs as well," he says. "My experience with Dr. Citardi was marvelous. It's an understatement to say I'm very happy with the result. He gave me a prescription for three months, and I'll need ongoing monitoring. I feel a thousand percent better, and I'm hoping I can stay on the medication forever."
Schedule an Appointment

---