Under Pressure: On Call During Hurricane Harvey
---
---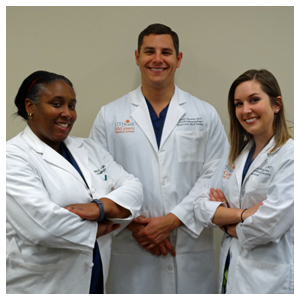 By Wednesday, Ronda Alexander, MD, knew the storm was going to hit Houston. It would turn out to be the worst hurricane in the city's history. An assistant professor in the department of Otorhinolaryngology-Head and Neck Surgery at UTHealth's McGovern Medical School, Dr. Alexander was scheduled to take call the weekend of Friday, August 25, through Monday, August 28, with her were fourth-year resident Kevin Caceres, MD, and third-year resident Laura Vandelaar, MD.
"It was a little windy on Friday afternoon without much rain, and we provided normal care during the day," Dr. Alexander says. "By Saturday morning Houston's bayous were filling up."
When the bayou near Dr. Alexander's home was close to the brim, she drove to Memorial Hermann-Texas Medical Center to be available to make patient-care decisions along with hospital leadership. "During a hurricane we have to use our resources wisely. We didn't want to tax an already-stressed hospital staff unnecessarily," she says.
After spending Friday at the hospital, Dr. Caceres went home to rest. "I heard rain off and on through the night and was worried that I might not be able to get to the hospital," he says. "Normally the junior and senior residents get to the hospital at 7 a.m. but Laura and I talked on the phone and decided to come in earlier."
Initially the hospital was busy, but the pace slowed as emergency department staff had to stop accepting patients. "We focused on our inpatients because they couldn't get home," he says.
Dr. Alexander remembers having to manage the dedication of the residents. "These two young people put their patients first," she says. "They rely on each other, and I had to remind them to call me when they needed to rest instead of calling each other. I wanted them to conserve their energy so they could continue to provide care over the long haul."
The residents found it difficult to nap. "We were concerned about our patients, and about our families and friends and the city," Dr. Caceres says. "The news was on every TV in the hospital, and it was distressing. It was just the three of us managing our patients and putting out fires. It wasn't easy to get sleep but we knew we were there for a marathon, not a sprint."
As a junior resident, Dr. Vandelaar is very focused on patient care. "As residents we feel very responsible for everything that happens to our patients," she says. "It took Dr. Alexander to remind me that I needed rest. Despite the storm, we were able to provide patients with the same standard of care that we would have provided under normal circumstances."
After the roads opened to traffic, it was business as usual. Dr. Caceres and Dr. Vandelaar left in the late morning on Monday, after more than 50 hours at the hospital. By Tuesday, Memorial Hermann-TMC was taking urgent cases and by Thursday afternoon, the hospital's otolaryngology offices had reopened.   "The residents were valiant, consummately professional and patient-focused," Dr. Alexander says. "This is what we expect of them under ordinary circumstances, and they maintained it under pressure. The hurricane gave them an opportunity to demonstrate their maturity and skill."
Asked what he gained from the experience, Dr. Caceres says, "We watched the entire city come together to rescue people and on a smaller scale, saw the Memorial Hermann family do the same thing. I heard countless stories of people who waded in through water to relieve their teams. With cooperation and determination, we took the measures that needed to be taken during a disaster. It makes me proud to be a resident here."
---