Dissolvable Steroid Implant May Improve Sinus Surgery Outcomes
---
---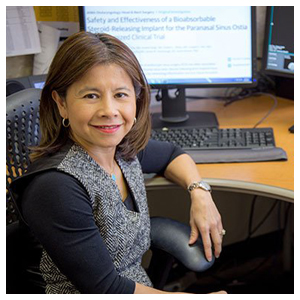 When dissolvable, slow-release steroid implants are placed in the newly created opening of the frontal sinuses of sinus surgery patients, these sinus passages stay open longer and have less inflammation, according to a multicenter clinical trial led by a researcher with McGovern Medical School. The frontal sinuses are located above the eyes and drain between the narrow area between the eye and nasal septum (the structure separating the right and left nasal passages). The study involved a common condition called chronic rhinosinusitis that affects almost 30 million adults in the United States.  Chronic rhinosinusitis is defined by symptoms such as facial pain/pressure and nasal congestion lasting at least three months. Surgery is a treatment option when medical therapy has failed.
"We found that the implants were associated with improved endoscopic surgical outcomes for sinusitis," said Amber Luong, M.D., Ph.D., the study's lead author and the director of research in the Department of Otorhinolaryngology. The goal of endoscopic sinus surgery is to enlarge natural sinus drainage pathways and to remove inflamed tissue so that saline irrigations and medications can be more effectively delivered. It is performed completely through the nose utilizing rigid high-definition endoscopes.
The purpose of the randomized control trial was to gauge the safety and effectiveness of the implants that were approved by the U.S. Food and Drug Administration in February. They are called PROPEL Contour. The 80 adult sinus surgery patients participating in the study had a steroid implant placed in a frontal sinus cavity and nothing placed in another. At day 30, images of the frontal sinus ostia were taken. The images were then assessed by an independent reviewer who had no way of knowing which frontal sinus cavity had received an implant and which did not.
"Steroid-releasing implants significantly reduced the need for postoperative interventions to 11.5 percent compared with 32 percent by surgery alone," reported Luong and her coauthors in a recent article in the journal JAMA Otolaryngology-Head & Neck Surgery. The implants dissolve in about three weeks. Shaped like an hourglass, the implant mimics the anatomy of the frontal sinus outflow tract, said Luong, who is on the medical staff of Memorial Hermann-Texas Medical Center.
"We've had frontal sinus implants in the past that had to be removed. What's new about this is that the implants dissolve on the own," Luong said. "Another benefit of the implants is that there are fewer side effects when the steroids are delivered topically as opposed to by mouth."
The next step in the research will be to sort out those patients who benefit from the implants from those who do not need the added protection.
Luong's coauthors include Randall A. Ow, M.D., of Sacramento ENT, Roseville, Calif.; Ameet Singh, M.D., of George Washington Medical Faculty Associates, Washington, D.C.; Robert L. Weiss, M.D., of The Connecticut Center for Advanced ENT Care in Norwalk, Conn.; Joseph K. Han, M.D., of Eastern Virginia Medical School, Norfolk, Va.; Roland Gerencer, M.D., of Breathe America, Inc., in Albuquerque, N.M.; J. Pablo Stolovitzky, M.D., of ENT of Georgia in Atlanta; and James W. Stambaugh, B.S., and Aarthi Raman, Ph.D., who are both with Intersect ENT Inc. in Menlo Park, Calif.
Intersect ENT supported the study, titled "Safety and Effectiveness of a Bioabsorbable Steroid-Releasing Implant for Paranasal Sinus Ostia."
"Dissolvable Steroid Implant May Improve Sinus Surgery Outcomes," by Rob Cahill (UTHealth Media Relations), appeared as a news post on the McGovern Medical School website, on November 30, 2017.
Schedule an Appointment

---