UTHealth Sponsors 2018 ORL Frontiers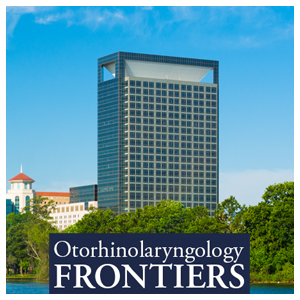 More than 70 physicians and other health care professionals attended 2018 ORL Frontiers, an annual CME event that highlights emerging technology in the diagnosis and management of common otolaryngologic clinical problems and the research productivity of members of the Department of Otorhinolaryngology-Head and Neck Surgery at McGovern Medical School at UTHealth. The event was held June 23, 2018, at the Brown Foundation Institute of Molecular Medicine at The University of Texas Health Science Center at Houston (UTHealth).
This year's invited speaker was Steven Marc Zeitels, MD, the Eugene B. Casey Professor of Laryngeal Surgery at Harvard Medical School and director of the Massachusetts General Hospital Center of Laryngeal Surgery and Voice Rehabilitation. Dr. Zeitels' contributions to voice and laryngeal surgery are recognized throughout the world. Widely regarded as a prolific surgical innovator for his design of new voice restoration procedures and instruments, he holds six patents for these innovations. His techniques were featured in a National Geographic Channel documentary, "The Incredible Human Machine," which highlighted Dr. Zeitels' microsurgery on Steven Tyler, lead singer of the rock band Aerosmith. In 2012, he received broad international coverage after performing a unique microsurgery that restored the voice of English singer-songwriter Adele, who thanked him at the acceptance of the first of her six Grammy Awards.  Dr. Zeitels presented on "Innovations of Laryngeal Surgery" in a two-part lecture.
Presentations made by the department's faculty and residents were:
"The UTHealth Pediatric ORL-HNS Airway Experience" by Uma Ramaswamy, MD
"Analysis of Sinonasal Microbiota in Exacerbations of Chronic Rhinosinusitis Subgroups" by Laura Vandelaar, MD
"Alternative Payment Models: Implications for ORL" by Martin J. Citardi, MD
"Laryngeal Imaging: From Candlelight to the Infinity Within" by Ronda Alexander, MD
"Accuracy of Balloon Sinus Dilation of the Maxillary Sinus" by Brett Jensen, MD
"Long-term Quality of Life in Patients with Sinonasal Skull Base Malignancies" by Matthew Tyler, MD