Breathing Better After Surgery and a Novel Implant
---
---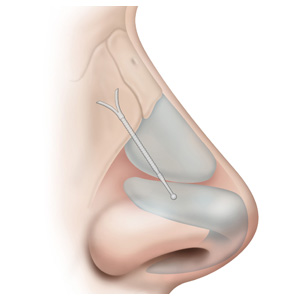 Former Houstonian Kelly Krohn was among the first to benefit from a relatively new solution for nasal airway obstruction symptoms – the LATERA® absorbable nasal implant. The implant was released in 2016, followed by clinical data published in the April 2017 issue of Facial Plastic Surgery showing that patients who received the LATERA implant had a significant and sustained reduction in nasal obstruction symptoms through 12 months, with no adverse change in appearance.
Krohn, 27, first met her surgeon William C. Yao, MD, after experiencing ringing in her ears. During the course of her office evaluation, he also diagnosed her with a significant deviated nasal septum and inferior turbinate hypertrophy.
"I never felt rested, but I had no idea the cause was difficulty breathing through my nose," says Krohn, who at that time was executive director of an educational nonprofit in Houston and working long hours. "I had to sleep 10 hours to feel rested, and I thought that was normal for me. "
During Dr. Yao's examination, he discovered that she had significant nasal valve collapse. "When patients like Ms. Krohn are symptomatic, the first line of treatment includes topical medication such as intranasal steroids," says Dr. Yao, a fellowship-trained rhinologist and skull base surgeon affiliated with Memorial Hermann-Texas Medical Center and an assistant professor in the Department of Otorhinolaryngology-Head and Neck Surgery at McGovern Medical School at UTHealth. "When that didn't help, we tried Breathe Right® strips to assist her with the nasal valve collapse. She noticed an improvement, but even with maximal medical treatment for more than six weeks, she continued to suffer from nasal obstruction. That led us to move forward with the septoplasty and turbinate reduction, as well as addressing her nasal valve collapse. "
Krohn had the surgery in September 2017. At the time of her procedure, Dr. Yao used the LATERA implant to support the upper and lower cartilage in her nose, reinforcing the nasal wall like traditional cartilage and polymer grafts. The implant dissolves over a six-month period as it creates a scar bandage that helps push the nasal sidewalls out and hold the nasal wall in place.
"Following surgery, Ms. Krohn's nasal symptoms significantly improved. Although a good majority of the improvement was from the septoplasty and turbinate reduction, our patients will continue to have difficulty breathing if we don't address the nasal valve collapse," Dr. Yao says. "After straightening the septum, the valve collapse becomes more magnified. "
Krohn is still breathing without complaints months after the surgery. "It was so easy," she says. "Dr. Yao did the implants and placed splints. I went back a week later to have the splints removed, which wasn't painful at all. I was back at work a few days later and feeling fine. After two weeks I was able to return to physical exercise. "
"Before the surgery I was a total mouth breather," adds Krohn, who recently moved from Houston to Boston. "Now I get a good night's sleep after seven or eight hours. I feel more rested during the day, and it's made exercising easier and a lot more fun. It really, really helped. It's great to have so much more energy now. "
Schedule an Appointment
Call Us
To schedule an appointment over the telephone, give our office a call at 713-486-5000.
Online Appointment Requests
Patients may submit their appointment requests through our online Appointment Request Form.
Current patients can contact us through our patient portal MyUTP.
---