Meet Amy Martin, MSN, APRN, ACNP-BC, CCRN, Newest Member of the ORL Team
---
---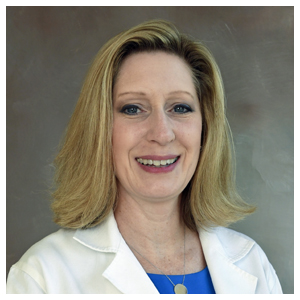 Amy Martin chose nursing as a career when she was 8 years old, dressed as a pumpkin. "It was Halloween and my mom's best friend was an ER nurse at Memorial Hermann Southwest Hospital," she recalls. "This was back when hospitals were X-raying candy as a community service, and when we were done trick-or-treating, my mom's friend took us to the ER. I got to see an X-ray of my hand holding a 3 Musketeers bar with an 18-gauge needle we'd put in it ourselves. I knew right then I wanted to be a nurse, because I wanted to know more about what was inside my hand."
Martin enjoyed listening to her mother's friend's stories about practicing in the ER. "I got what she was saying, and I liked it," she says. "She helped me get into my first nursing program at Houston Community College, and I went on from there."
Martin got her first nursing degree when she was 27 and had been married for five years. She began her career at Ben Taub General Hospital in the Surgical ICU and ER, then went on to earn her BSN at The University of Texas Health Science Center at Houston (UTHealth).  She received her MSN and certification as an adult acute care nurse practitioner in 2009 at The University of Texas Medical Branch at Galveston.  Prior to joining Memorial Hermann, she was a nurse practitioner in cardiology services and cardiology imaging at Houston Methodist Hospital and in the Intensive Care Unit at Houston Methodist West Hospital.
"I didn't particularly want to leave the bedside, but I wanted to be a better nurse so I kept moving forward," she says.
Today, in her 20th year of nursing and her ninth as a nurse practitioner, Martin is practicing in a new position in the Department of Otorhinolaryngology-Head and Neck Surgery at Memorial Hermann-Texas Medical Center and McGovern Medical School at UTHealth – under the direction of Ron Karni, MD, an associate professor who holds joint appointments in the Department of Otorhinolaryngology-Head and Neck Surgery and the Division of Medical Oncology at McGovern Medical School.  While she serves all of ENT, her main focus is on head and neck oncology.
Martin is currently working on her MBA at The University of Texas at Tyler and expects to graduate in 2019.  "I'll never stop learning," she says. "Nursing is a different job every day, with new people and new stories.  You get up in the morning, come to work and learn, see, help or facilitate with something new every day.  I can't believe I've been a nurse for 20 years.  It's fun and exciting, and it's gone by fast."
Schedule an Appointment
Call Us
To schedule an appointment over the phone, give our office a call at (713)-486-5019.
Online Appointment Requests
Patients may submit their appointment requests through our online Appointment Request Form.
Both current and new patients can request appointments through MyUTHealth, our patient portal.
---