Otologist-Neurotologist Joins Memorial Hermann and UTHealth
---
---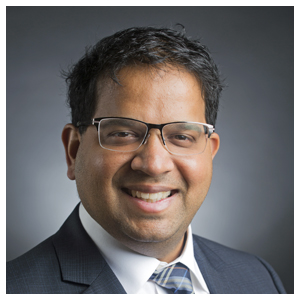 Aniruddha ("Alok") Patki, MD, has joined the Department of Otolaryngology-Head and Neck Surgery as assistant professor of otology and neurotology at McGovern Medical School at UTHealth. A Diplomate of the American Board of Otolaryngology, he will serve as an attending surgeon at Memorial Hermann-Texas Medical Center and Lyndon B. Johnson Hospital of the Harris Health System.
Dr. Patki is a summa cum laude graduate of the University of Arizona at Tucson, where he earned his bachelor's degree in biochemistry/molecular biophysics and computer science. He received his medical degree at the Washington University School of Medicine in St. Louis, followed by residency training in otolaryngology and head and neck surgery at Duke University School of Medicine, where he received the Outstanding Resident Research Award in 2016. He completed a fellowship in neurotology at the House Clinic in Los Angeles.
While in medical school, Dr. Patki became interested in dizziness and cochlear implantation and chose otology to pursue those interests. "Even before residency, I was interested in the anatomy and function of the human ear," he says. "If you want to delve into the multiple causes of dizziness and pursue specialized ear surgery, particularly cochlear implants, a fellowship in neurotology is the way to go."
Dr. Patki believes in the importance of patient education in support of excellent clinical care. "Because we may see our patients multiple times over the years, it's important to build a strong physician-patient relationship."
He encourages primary care providers to check their patients regularly for hearing loss. "Even severe hearing loss can be missed. Often patients don't bring up the topic with their family physicians, and many people believe that there's nothing that can be done to help," he says. "They remember their father's experience with hearing aids or have heard stories from their friends. Like smartphones and computers, hearing-device technology continually evolves. There are many good solutions for hearing loss."
Schedule an Appointment
Call Us
To schedule an appointment over the phone, give our office a call at (713)-486-5019.
Online Appointment Requests
Patients may submit their appointment requests through our online Appointment Request Form.
Both current and new patients can request appointments through MyUTHealth, our patient portal.
---