Revision Parathyroidectomy Using 4D CT for Localization
---
---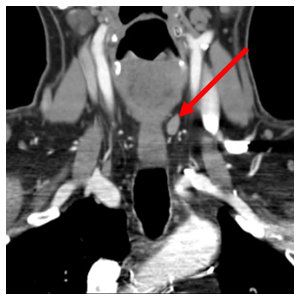 Finding a tiny tumor in a field of scar or localizing an ectopic parathyroid before primary surgery is like searching for a needle in a haystack. Neuroradiologists affiliated with Memorial Hermann and UTHealth were early adopters of four-dimensional CT imaging (4D CT) to localize parathyroid adenomas, and with nearly a decade of experience, they now report higher than 95 percent accuracy. They collaborate with Ron Karni, MD, chief of the Division of Head and Neck Surgical Oncology in the Department of Otorhinolaryngology at McGovern Medical School at The University of Texas Health Science Center at Houston (UTHealth), toward the goal of minimally invasive parathyroid surgery even in complicated cases.
"We get the problematic cases," says neuroradiologist Elliott Friedman, MD, an associate professor of diagnostic and interventional imaging at McGovern Medical School at UTHealth who, together with neuroradiologist Maria Patino, MD, works with Dr. Karni when evidence points to a parathyroid abnormality. "When he sends us a patient with hyperparathyroidism, there's a lesion and it's our job to find it."
The patient story always starts with hypercalcemia. When a parathyroid adenoma is present, higher-than-normal levels of parathyroid hormone are secreted, causing the concentration of calcium in the blood to rise.
"Once we confirm a parathyroid problem, we hunt for the gland," says Dr. Karni, an associate professor who holds joint appointments in the Department of Otorhinolaryngology-Head and Neck Surgery and the Division of Medical Oncology at McGovern Medical School at UTHealth. "If traditional nuclear medicine imaging and ultrasound scans can't locate it, we have at our disposal 4D CT, which plays a central role in locating abnormalities, especially in patients who have had previous surgery. In these cases, 4D CT has become a giant, allowing us to find the gland, remove it in a minimally invasive procedure and avoid a fishing expedition through the neck."
Parathyroid anatomy is the most variable in the body. Usually located behind the thyroid, the glands can be found in the back of the neck, just below the jaw, or in the upper chest near the heart.
"4D CT uses high resolution in multiple phases," Dr. Friedman says. "We take three scans starting at the jaw and moving to the upper chest – one before injecting the intravenous contrast, one in the arterial phase and the last in the venous phase. With careful timing of the scans, we can distinguish an abnormal parathyroid from surrounding anatomy. We position patients to minimize radiation exposure to sensitive organs."
The surgical approach depends on the location – one reason patients benefit from a skilled neuroradiologist and an experienced parathyroid surgeon. "4D CT is not available everywhere, but what really distinguishes us from other centers is the expertise of our neuroradiologists," Dr. Karni says. "They have a special focus on diseases of the head and neck, and when it comes to parathyroids, they look for the needle in the haystack and make it their priority to find it every time. We owe our success as surgeons to their outstanding work."
After reviewing eight years of 4D-CT outcomes in relation to parathyroid surgery outcomes, Dr. Karni presented the department's data at the American Academy of Otolaryngology-Head and Neck Surgery's annual meeting in October 2018 in Atlanta. The data indicates that 4D-CT imaging, when reviewed by an experienced neuroradiologist, is an extremely reliable method for localizing small parathyroid tumors when other imaging methods fall short.
Schedule an Appointment
Call Us
To schedule an appointment over the phone, give our office a call at (713)-486-5019.
Online Appointment Requests
Patients may submit their appointment requests through our online Appointment Request Form.
Both current and new patients can request appointments through MyUTHealth, our patient portal.
---