First in Houston to Offer a New Treatment for Obstructive Sleep Apnea
---
---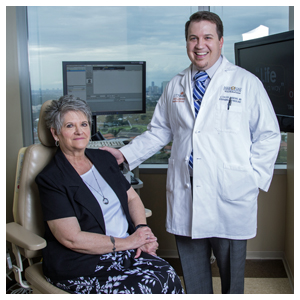 UT Physicians is now offering an alternative therapy for obstructive sleep apnea (OSA) when traditional approaches fail. The first six cases in Houston have provided a transformational, life-changing solution for people seeking a restful, healthy night of sleep. The new option, created by Inspire Medical Systems and approved by the Food and Drug Administration (FDA), is an implanted device for those who have not responded to Continuous Positive Airway Pressure (CPAP) therapy.
"In our practice, we see many patients who have stopped using or are unable to tolerate CPAP," said J. Caleb Simmons, MD, assistant professor in the Department of Otorhinolaryngology – Head & Neck Surgery at McGovern Medical School at The University of Texas Health Science Center at Houston (UTHealth). "The hypoglossal nerve stimulator represents a significant advance in sleep apnea treatment.  It is clinically proven to reduce sleep apnea events and also has a high level of patient satisfaction and therapy adherence. We are excited to now offer this promising therapy to sleep apnea patients who struggle with CPAP."
More than 18 million Americans have sleep apnea.  Depending on the degree of severity, OSA can be a potentially life-threatening condition. Recent research shows that a person with poorly managed sleep apnea is at increased risk for heart attack, stroke, weight gain, high blood pressure and heart failure.  While CPAP is often successful, studies show that roughly half of all patients that start CPAP eventually become non-compliant.  In contrast to CPAP, Inspire therapy works from inside the body and with a patient's natural breathing process. The implantable system includes a small generator, a sensing lead and a stimulation lead. Turned on by a handheld remote, it delivers mild stimulation to key airway muscles, which keeps the airway open during sleep.
"Within two weeks after I had it activated, it felt like the sun had come out," said Joy Helminski, who was the first to receive the device in Houston. "I have more energy now in the day. I can go to work for 12 hours and come home—and still have energy at night."
In the STAR (Stimulation Therapy for Apnea Reduction) trial, a pivotal clinical trial that tested the safety and efficacy of the hypoglossal nerve stimulator, patients experienced a significant reduction in sleep apnea events and significant improvement in quality of life measures. These results were published in the January 9, 2014 issue of the New England Journal of Medicine.
Schedule an Appointment
Call Us
To schedule an appointment over the phone, give our office a call at (713)-486-5019.
Online Appointment Requests
Patients may submit their appointment requests through our online Appointment Request Form.
Both current and new patients can request appointments through MyUTHealth, our patient portal.
---