On a Mission: Dr. Yuksel Returns to Nicaragua
---
---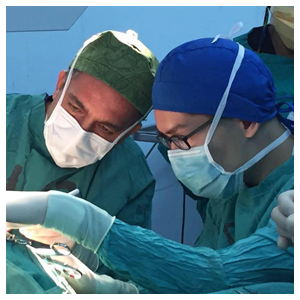 Pediatric otolaryngologist Sancak Yuksel, MD joined a team of otolaryngologists, nurses, audiologists, and speech pathologists supported by Oklahoma-based Mayflower Medical Outreach (MMO), and traveled to the mountain towns of Jinotega and Estelí, Nicaragua, to evaluate adult and pediatric patients and perform surgeries. The group, which visits every year, makes the trip in conjunction with a broader effort that includes audiology and deaf education, as well as physician training.
Team members worked with dedicated Nicaraguan otolaryngologists who provide year-round services at Victoria Motta Hospital in Jinotega and helped triage consults and surgeries prior to MMO's annual visit. The eight-day experience was Dr. Yuksel's third mission trip to Nicaragua.
"I keep going back because the mission has opened my eyes to the needs of people in Nicaragua," says Dr. Yuksel, who is an associate professor in the Department of Otorhinolaryngology-Head and Neck Surgery at McGovern Medical School at UTHealth. "I came to the U.S. from Turkey, which has less wealth than the United States, but seeing the lack of supplies and access to healthcare services in Nicaragua was a completely new experience for me."
Dr. Yuksel and the MMO team, which included three surgeons and other volunteers, evaluated about 100 patients from across the country in a single day. Dr. Yuksel performed 15 complex ear surgeries at San Juan de Díos Hospital in Estelí, operating under very limited conditions. The three surgeons operated on a total of nearly 50 Nicaraguan patients.
"These surgeries would not have been possible without the efforts of other volunteers," says Dr. Yuksel. "Because there were supply shortages, we brought in our own operating microscopes, ear prostheses, and suture materials. Working in Nicaragua with health care professionals from around the United States was an amazing experience. I hope to be able to do it again."
Schedule an Appointment
Call Us
To schedule an appointment over the phone, give our office a call at (713)-486-5019.
Online Appointment Requests
Patients may submit their appointment requests through our online Appointment Request Form.
Both current and new patients can request appointments through MyUTHealth, our patient portal.
---