Without Borders: Dr. Amber Luong Joins a Mission to Vietnam
---
---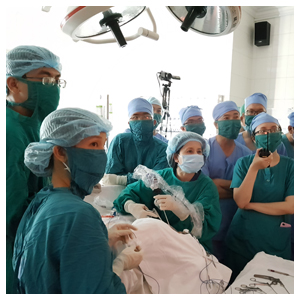 Born in Vietnam, Amber U. Luong, MD, PhD, was 3 in April 1975 when her family left the country the day before the fall of Saigon. Last March, the fellowship-trained physician-scientist sinus surgeon had the opportunity to return to her native country with Resource Exchange International (REI) Vietnam to pass on knowledge of otorhinolaryngology to physicians and medical students through conferences and in the OR.
"For me it was also a personal mission. I had the opportunity to see that my country had done well and continued to move forward despite the war," says Dr. Luong, an associate professor in the Department of Otorhinolaryngology-Head and Neck Surgery at McGovern Medical School at UTHealth, who runs a basic science lab at the Brown Foundation Institute of Molecular Medicine focused on the role of the innate immunity and environmental triggers on the pathophysiology of chronic sinus disease. "They are hungry for knowledge from other countries, and even though these physicians are working in a developing countries, I saw more similarities than differences in medicine in Vietnam and the United States despite the disparity in resources."
Dr. Luong worked with REI-Vietnam's ENT group for five days. She had made social visits to Vietnam previously, but this was her first trip back in a professional capacity. Based in Ho Chi Minh City, she operated on patients with chronic rhinosinusitis and sinonasal tumors and delivered lectures on systematic evaluations of CT sinus scans and performing maxillary antrostomies at the city's Ear Nose Throat Hospital. She also lectured on skull base surgery and repair of cerebrospinal fluid leaks at the Pham Ngoc Thach University of Medicine.
"The doctors I worked with were very welcoming and pleased to see me come back after leaving Vietnam at the same time as many other boat people," she says. "Growing up, our parents reminded my brother and me that we had been given a second chance after escaping the war. In Vietnam the future looked bleak. As a young couple fortunate enough to leave with their children, my parents emphasized education and making contributions to society."
Dr. Luong received her MD/PhD through the National Institutes of Health-funded Medical Scientist Training Program. She has received multiple grants from the NIH, The Triological Society, the American Academy of Otolaryngic Allergy, and the American Rhinologic Society. She has published more than 80 peer-reviewed articles in various journals, including American Journal of Respiratory and Critical Care, Journal of Allergy and Clinical Immunology, Science and the International Forum of Allergy and Rhinology. In addition to her basic science research, she is actively engaged in a number of industry-funded translational studies that directly stem from her interest in the relationship of chronic inflammation between the sinuses and lungs and in the role of innovation in management of chronic sinus disease. Both her basic science and translational research complement her clinical interest in the medical and surgical management of chronic sinus disease.
Dr. Luong first heard about REI-Vietnam, which has been fielding medical teams since 1994, when she had just started her ENT residency. "I always wanted to go, but it was only recently that I could take the time to do it," she says. "The group passes on knowledge to doctors in Vietnam year after year. We established some research collaborations and met a lot of medical students and residents. The next trip will be to Hanoi. I'm hoping to join them."
Schedule an Appointment
Call Us
To schedule an appointment over the phone, give our office a call at (713)-486-5019.
Online Appointment Requests
Patients may submit their appointment requests through our online Appointment Request Form.
Both current and new patients can request appointments through MyUTHealth, our patient portal.
---