McGovern Society Leaders Give Students a Roadmap Through Medical School
---
---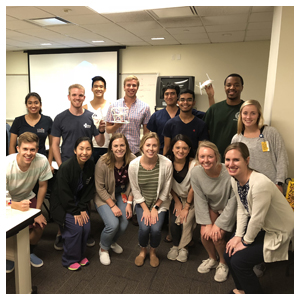 Pediatric otolaryngologist Zi Yang Jiang, MD, is one of 30 McGovern Society leaders who mentor new medical students, helping them develop a sense of responsibility for their own wellness, resilience, and professionalism as they work toward graduation from McGovern Medical School at UTHealth. Dr. Jiang, a member of the society since its founding three years ago, is an assistant professor in the Department of Otorhinolaryngology-Head and Neck Surgery at the medical school.
Before new students enter the school, they are assigned to one of the 30 groups led by clinical faculty members who, when possible, interviewed them during the admission process. McGovern Society leaders are carefully selected based on their skills to advise, counsel, and mentor across a broad range of interests and to continue on through the medical education of each member of their society. The students maintain membership in their community throughout their undergraduate medical education, which also allows them to learn from older classmates.
Dr. Jiang leads the Isabella and Cheves Smythe, MD, Society, as his group is known, and meets with eight entering students each year, working closely with a total of 16. "We meet once a month to talk about how they're adapting to medical school, career planning, their research interests, and opportunities to continue learning during the summer," he says. "They're in the process of making major decisions about their career path and residency. We discuss wellness, work-life balance, and the skills they'll need to be physician leaders."
The 30 McGovern Societies give students a roadmap to navigate through medical school. "Our students are bright, and they succeed," Dr. Jiang says. "Mentoring gives them a more well-rounded perspective on the medical profession at a time when they're choosing their specialty."
Dr. Jiang gains personally from his participation in the McGovern Societies. "Normally I wouldn't have the opportunity to interact with first- and second-year medical students," he says. "I meet them early on in medical school and spread the news about our specialty. We also meet with other Society leaders in faculty development sessions to discuss innovative ways to engage the students, which gives me the opportunity to interact with physicians from other specialties, many of whom I otherwise wouldn't meet as a pediatric otolaryngologist, including clinicians who work with adults and research scientists."
Schedule an Appointment
Call Us
To schedule an appointment over the phone, give our office a call at (713)-486-5019.
Online Appointment Requests
Patients may submit their appointment requests through our online Appointment Request Form.
Both current and new patients can request appointments through MyUTHealth, our patient portal.
---