Innovations in the Treatment of Lymphedema in Head and Neck Cancer Patients
---
---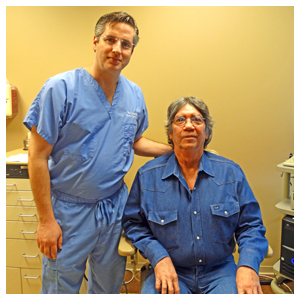 Lymphedema research at UTHealth has led to new knowledge and innovative treatments for head and neck cancer patients after surgery and radiation therapy. Carey Hatfield, 59, is among the patients to benefit from the researchers' elucidation of internal lymphedema and the use of the Flexitouch® system, an intermittent pneumatic compression device that allows patients to self-manage the condition.
After a diagnosis of squamous cell carcinoma of the left tonsil, Hatfield was not far into radiation and chemotherapy when he lost the ability to speak and swallow. Cancer rehabilitation specialist Carolina Gutiérrez, MD, first saw him in March 2018, in the Head and Neck Cancer Survivorship Clinic, which is specialty otorhinolaryngology service led by Ron Karni, MD, chief of the Division of Head and Neck Surgical Oncology in the Department of Otorhinolaryngology at McGovern Medical School at UTHealth.
"Mr. Hatfield started chemotherapy and radiation in November 2017. By the time he finished treatment in January, he was getting nutrition through a PEG tube," says Dr. Gutiérrez, a consulting physician at TIRR Memorial Hermann and assistant professor of physical medicine and rehabilitation at McGovern Medical School. "When it became clear that he was not getting back to swallowing as quickly as most of our patients, we redoubled our efforts to help him."
Those efforts were aided by an ongoing research program led by Eva Sevick, PhD, professor of molecular medicine and Nancy and Rich Kinder Distinguished Chair in Cardiovascular Disease Research at the Brown Foundation Institute of Molecular Medicine at UTHealth. Her team's research is focused on using near-infrared fluorescence imaging to phenotype lymphatic and lymphovascular dysfunction.
"After treatment with radiation therapy, many of our patients are living with profound lymphedema," Dr. Karni says. "Through our work with Dr. Sevick, we've elucidated that it's not just the swelling on the outside of the neck but the swelling of structures inside the throat that leads to the inability to breathe, swallow, and talk, and limits range of motion in the neck. Her research has given us an incredible opportunity to impact the lives of our cancer survivors."
Dr. Sevick, Dr. Karni, and Dr. Gutiérrez have performed lymph-flow studies validating Flexitouch, the first device that allows patients to manage their lymphedema at home by simulating manual lymphatic drainage. The device is programmed so that the patient receives compression on the head, neck, and chest as its air chambers open and close. Dr. Karni asked Hatfield to try the Flexitouch when the exercises prescribed by his speech therapist failed to lead to improvement.
"I wanted to get the feeding tube out and start to eat as soon as possible so that I could go back to work," Hatfield says. "I told Dr. Karni I didn't think I was progressing well. I felt like I had something stuck in the back of my throat, and this feeling kept waking me up at night. In the morning my throat was so swollen that I couldn't swallow at all. At the same time I was trying to walk and exercise to get my energy back."
Hatfield's insurance paid for the device, and a representative from the company came to his home to show him and his wife, Tawna Hatfield, how to use it. "We started using it 30 minutes twice a day at first," he says. "I could tell the difference almost immediately, and two weeks later I was able to eat soft food."
Hatfield still uses the vest in the morning to reduce swelling in his throat and he continues to do the swallowing exercises he was taught at the Head and Neck Cancer Survivorship Clinic. He says his diet has improved.
"I used to eat junk food like pizza and hamburgers. I've lost my taste for both," he says.
"Dr. Karni was great," he adds. "Everything went exactly as he told me it would. Radiation and chemotherapy were kicking my butt, but I got through it. There were times when I was pretty weak and couldn't do anything. My wife was able to be with me all the time, and the doctors – well, I couldn't have asked for anything better. She had their cell phone numbers and could call them day or night with questions."
Dr. Karni says Hatfield is a good example of the results of proper lymphedema treatment. "Across the board, patients who use the Flexitouch say they feel better. We like them to start four weeks after finishing radiation therapy," he says. "Your doctor may see you once a month and your speech therapist may see you two or three times a week, but patients who have lymphedema live with it every day of the week. We do everything we can to improve their daily function and quality of life."
Schedule an Appointment
Call Us
To schedule an appointment over the phone, give our office a call at (713)-486-5019.
Online Appointment Requests
Patients may submit their appointment requests through our online Appointment Request Form.
Both current and new patients can request appointments through MyUTHealth, our patient portal.
---