Dr. William Yao Serves as Visiting Professor in Yangzhou, China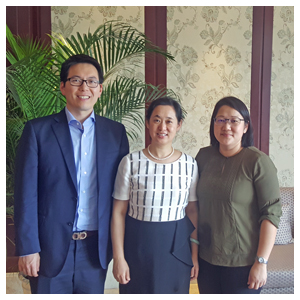 Rhinologist and anterior skull base surgeon William C. Yao, MD, was a visiting professor and invited lecturer at Jiangsu Subei People's Hospital and Yangzhou University Clinical Medical School in Yangzhou, China. He is an assistant professor in the Department of Otorhinolaryngology-Head and Neck Surgery at McGovern Medical School at UTHealth, and specializes in endoscopic sinus, skull base and orbital surgery.
During his visit to China, he presented "Orbital Surgery in the Endoscopic Age" at Grand Rounds to more than 60 otolaryngologists from Yangzhou and the surrounding area and also taught hands-on operating techniques for endoscopic sinus surgery and vidian neurectomy to local otolaryngologists in the operating room.
Dr. Yao was invited to China by Bing Guan, MD, chief of the Yangzhou Allergy Branch and director of Subei People's Hospital, with whom he worked when she was a visiting professor in the otorhinolaryngology department in 2017.  Also presenting at Grand Rounds was Lina Ling Chooi, MD, who completed a yearlong observership for international medical graduates at UTHealth during the 2016-17 academic year.
It was Dr. Yao's first visit to China. "It was an honor to be invited to lecture at Yangzhou University Clinical Medical School and Jiangsu Subei People's Hospital, which serves a population of more than a million," he says. "It was also an educational experience for me. I had the opportunity to learn about the Chinese medical system, the school's approach to surgical training and the different techniques they use based on the equipment and resources available."