Congratulations to Our Graduating Residents
---
---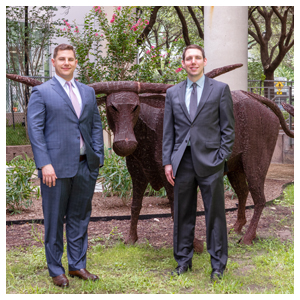 Kevin Caceres, MD, and Brett Jensen, MD, have completed their residencies in otorhinolaryngology-head and neck surgery at McGovern Medical School at UTHealth. Dr. Caceres began a fellowship in facial plastic surgery at Facial Plastic Surgery Associates in Houston, working with Russell Kridel, MD, clinical professor of otorhinolaryngology at McGovern Medical School. Dr. Jensen is now in private practice in Houston.
"Both Dr. Caceres and Dr. Jensen were anchors for their peers as they rose to leadership in the residency clinical program," says Ronda Alexander, MD, assistant professor of otorhinolaryngology and director of residency training. "They engaged their junior peers in teaching and learning, furthering our department's aim of providing Houstonians and others across the state of Texas with the best possible otolaryngologic care."
Originally from Corpus Christi, Texas, Dr. Caceres now considers Houston home. He joined the department after completing his medical degree at Baylor College of Medicine and discovering his passion for facial plastic and reconstructive surgery. "During residency, he teamed with faculty to develop innovative uses for reconstructive flaps in patients who require trauma and oncologic care," Dr. Alexander says. "He's now working with internationally renowned expert Dr. Russell Kridel to refine his skills in reconstructing and rejuvenating faces of all ages."
A Houston native, Dr. Jensen received his medical degree at McGovern Medical School. "We were very pleased when he matched with us, and our faith in him has been borne out in his performance during residency," Dr. Alexander says. "He has earned a reputation as a reliable physician and competent, calming presence during emergency situations." In May, Dr. Jensen's research into the accuracy of sinus ostia balloon dilation was honored with the Texas Association of Otolaryngology's Lloyd Storrs Lectureship.
Schedule an Appointment
Call Us
To schedule an appointment over the phone, give our office a call at (713)-486-5019.
Online Appointment Requests
Patients may submit their appointment requests through our online Appointment Request Form.
Both current and new patients can request appointments through MyUTHealth, our patient portal.
---