Dr. Martin J. Citardi Serves as Faculty at ORL Horizons 2019
---
---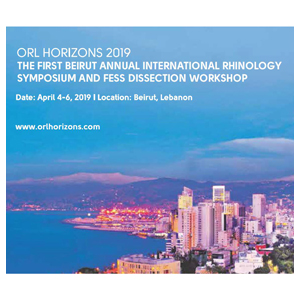 Martin J. Citardi, MD, professor and chair of the Department of Otorhinolaryngology-Head and Neck Surgery at McGovern Medical School at UTHealth and chief of otorhinolaryngology at Memorial Hermann-Texas Medical Center, was an honored guest lecturer at ORL Horizons 2019: The First Beirut Annual International Rhinology Symposium and Functional Endoscopic Sinus Surgery (FESS) Dissection Workshop. Sponsored by the American University of Beirut Department of Otorhinolaryngology-Head and Neck Surgery, the meeting was held April 4-6 in Beirut, Lebanon.
Dr. Citardi served as moderator of three panels: "Innovations in Surgical Rhinology," "The Value of New Knowledge in Chronic Rhinosinusitis," and "Advanced Cases in Skull Base Surgery." He presented lectures on "Considerations in Concurrent FESS and Rhinoplasty," "Postoperative Care and Optimizing the Outcomes of FESS," "Integrated Approach for Frontal Sinus Surgery," and "Managing CSF Leaks and Skull Base Defects: Flaps or Grafts." Lastly, he served as a panelist for three discussions: "Medical Management of CRS Cases," "How Much Surgery is Really Needed," and "What Do the Experts Really Do."
"I was honored to serve as a moderator, lecturer, and prosector at a rich and thought-provoking scientific program focused on innovation in modern rhinology and office-based procedures," Dr. Citardi says. "Over the past 20 years, the rhinology community has gone global, and meetings such as ORL Horizons are now an important forum for practicing ENT clinicians to share new knowledge and develop better solutions to common challenges."
A continuing medical education course, the symposium and workshop were held in collaboration with the American Rhinologic Society, the World Allergy Organization, the Pan Arab Rhinology Society, and the Lebanese Society of Oto-Rhino-Laryngology, Head and Neck Surgery, in conjunction with the Cleveland Clinic. A hands-on FESS dissection workshop featured endoscopic surgical and video equipment, surgical navigation, balloon technology, and powered instrumentation.
Schedule an Appointment
Call Us
To schedule an appointment over the phone, give our office a call at (713)-486-5019.
Online Appointment Requests
Patients may submit their appointment requests through our online Appointment Request Form.
Both current and new patients can request appointments through MyUTHealth, our patient portal.
---