Otorhinolaryngology OR Team Contributes to Successful Outcomes
---
---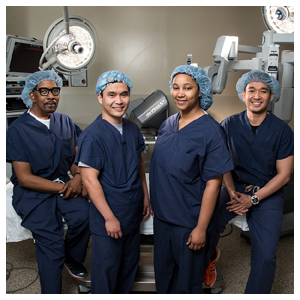 Otorhinolaryngology (ORL) is a highly specialized discipline dependent on OR support staff who are knowledgeable about the advanced procedures and instruments used by physicians during surgery. Thanks in part to the proficiency of nurses and surgical technologists at Memorial Hermann-Texas Medical Center, faculty in the Department of Otorhinolaryngology-Head and Neck Surgery at McGovern Medical School at UTHealth are able to perform complex procedures to many patients with unique surgical needs.
David Banks, BSN, RN, CNOR, otorhinolaryngology clinical coordinator, ensures that the daily schedule runs as planned. Each morning the team gathers in a huddle to discuss physician needs for every surgical procedure posted in the ORL service. "I couldn't ask for a better group of surgeons to work with," says Banks, who has focused his entire nursing career on ENT and has served Memorial Hermann-TMC for 15 years. "If there's a need for specialty items or a change in the procedure, the surgeons inform the staff before the procedure starts. Our staff is so proficient that even the most complex surgical procedures run like clockwork."
Ty Geffrad, ST, who has worked with the ORL service line since September 2018, previously spent five years working with rhinologist Martin J. Citardi, MD, at the Cleveland Clinic. Dr. Citardi is professor and chair of the Department of Otorhinolaryngology-Head and Neck Surgery at McGovern Medical School.
"We work well together as a team, and to my mind it's the best service in the hospital," says Geffrad, a preceptor on ENT cases. "I come to work every day because I love it. We're doing important work to improve the lives of our patients."
Joseph Caluag, ST, has worked in the OR at Memorial Hermann-TMC for nine years. "I like the idea of helping people behind the scenes," he says. "Very few people know who we are, which is like being a superhero with a hidden identity."
Leading the surgical technologist team is coordinator Conchetta Nelson, CST, who has worked with the ORL team for 10 years. "I love my team. They're like a second family," she says. "We all pull the weight together. It's very rewarding to be a part of a team that's giving patients – especially cancer patients – a second chance."
Mario Galvez, BSN, RN, CNOR, has worked as an OR nurse for nearly 15 years. "The OR is a very dynamic, fast-paced environment in which we have the opportunity to see immediate, life-changing results," he says. My job is exciting in the sense that no two patients are alike so the care we provide is very individualized. The satisfaction I get from being a part of transforming the lives of my patients, especially those who undergo plastic and reconstructive surgeries, is a big draw for me."
Ron Karni, MD, chief of the Division of Head and Neck Surgical Oncology and an associate professor of otorhinolaryngology, notes "It's rare to find a hospital with surgical volumes that justify nurses dedicated solely to ENT. We have experienced nurses and technologists who work specifically with us, rather than nurses and staff who serve various disciplines as is the case in the vast majority of hospitals," he says. "This has allowed us to create a center of excellence for head and neck cancer and other complex conditions. We're a success only because we work well as a team. The OR staff's long-term dedication to the job speaks to their passion to deliver the best outcomes for our patients."
Schedule an Appointment
Call Us
To schedule an appointment over the phone, give our office a call at (713)-486-5019.
Online Appointment Requests
Patients may submit their appointment requests through our online Appointment Request Form.
Both current and new patients can request appointments through MyUTHealth, our patient portal.
---