Dr. Tang Ho Honored for 10 Years of Service to UTHealth
---
---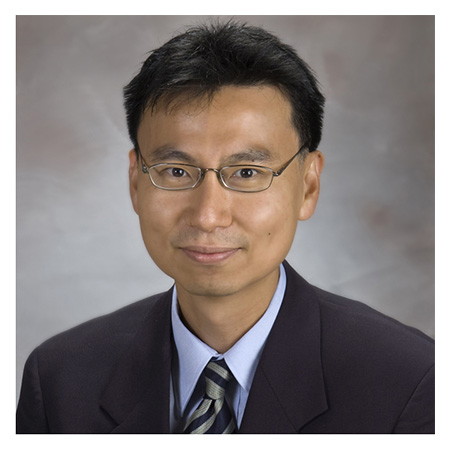 Tang Ho, MD, chief of facial plastic and reconstructive surgery in the Department of Otorhinolaryngology-Head and Neck Surgery at McGovern Medical School at UTHealth, was recognized for 10 years of service to UTHealth in the 2019-2020 academic year. An associate professor in the department, Dr. Ho is dual board- certified by the American Board of Facial Plastic and Reconstructive Surgery and the American Board of Otolaryngology-Head and Neck Surgery. He leads the Texas Center for Facial Plastic Surgery, a collaborative effort between Memorial Hermann-Texas Medical Center and McGovern Medical School.
Dr. Ho received his undergraduate degree in biomedical engineering at Johns Hopkins University in 1998 and spent the following year as a United States Fulbright Scholar to the United Kingdom, where he received his master's degree in sociology at the University of Edinburgh in Scotland.   "After my undergraduate experience, I felt that I wanted to have more of a people connection than you traditionally get in engineering," he says. "Medicine is one of the few professions in which you have the opportunity to have meaningful relationships with people from all walks of life."
In 1999, he returned to the U.S. and entered the Johns Hopkins University School of Medicine. Following graduation, he completed internship training in general surgery and residency training in otolaryngology-head and neck surgery at Baylor College of Medicine in Houston. He returned to the Johns Hopkins School of Medicine in 2008 for fellowship training in facial plastic and reconstructive surgery.
"I'm a visual person, and I get great satisfaction from seeing the immediate improvement patients have after plastic and reconstructive surgery," Dr. Ho says. "On the cosmetic side, we help patients achieve the visible change they're looking for, which is very rewarding. While reconstructive surgery can be more technical, the fact that we're in a position to restore a sense of normalcy for patients and help facilitate a return to a more mainstream social life after trauma or cancer is very personally gratifying."
There is no typical day for Dr. Ho and his team. He might spend the morning reconstructing the face of a gunshot wound survivor, and the afternoon doing thread lifts for facial rejuvenation, a relatively new minimally invasive procedure for which he serves as a national trainer.
"Dr. Citardi has spent the past decade putting together a diverse and excellent team," he says. "Every academic department will have its own characteristics and personality. The great thing about our department is that we all work well together."
In late 2019, the Texas Center for Facial Plastic Surgery moved to a new office space on the 20th floor of the Memorial Hermann Medical Plaza in the Texas Medical Center. The center offers the full spectrum of facial cosmetic and reconstructive services, including facelift, brow lift, and thread lift; reanimation procedures for patients with facial paralysis; reconstruction of skin cancer defects; and complex microvascular facial reconstruction. Providers at the center also offer aesthetician services that include skin care, laser resurfacing, microneedling for facial rejuvenation, injectable Botox®, and fillers.
"Now that we're in our new space, we want to expand our clinical operations both in scope of service through new procedures such as thread lifts and hair transplant, and also stay at the forefront of facial reconstructive surgery," Dr. Ho says. "We were just approved by the Texas Medical Board to offer a fellowship in facial plastic and reconstructive surgery and have begun recruiting to fill the position starting July 2021. Educating the surgeons of the future keeps us on our toes. We learn more when we teach."
Schedule an Appointment
Call Us
To schedule an appointment over the phone, give our office a call at (713)-486-5019.
Online Appointment Requests
Patients may submit their appointment requests through our online Appointment Request Form.
Both current and new patients can request appointments through MyUTHealth, our patient portal.
---