Trial Results Show Benefits of Intranasal Capsaicin for Patients with Nonallergic Rhinitis
---
---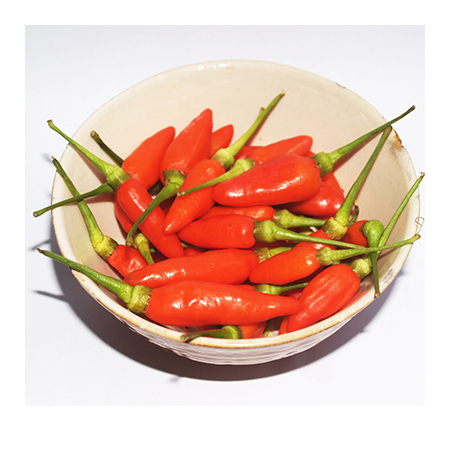 Patients with nonallergic rhinitis (NAR) suffer from persistent nasal congestion, rhinorrhea, and postnasal drainage unrelated to an identifiable allergen, structural abnormality, or sinus disease. A diagnosis of exclusion with limited treatment options, NAR exacts a heavy toll on quality of life. Intranasal capsaicin has shown promise as a treatment in ongoing studies in the Department of Otorhinolaryngology at McGovern Medical School at UTHealth in patients diagnosed based on symptoms and negative testing for environmental allergies.
Denna Zebda, MD, is the first author of an article about a recent trial of intranasal capsaicin treatment for nonallergic rhinitis, published in 2021 in the International Forum of Allergy and Rhinology.  Dr. Zebda, who has is now assistant professor of otorhinolaryngology at McGovern Medical School, received the first internationally voted Resident Research Award at the department's virtual ORL Frontiers 2020 for her presentation on the study results.
"There's a significant body of evidence showing that intranasal capsaicin can be very effective in treating nonallergic rhinitis," says Amber Luong, MD, PhD, professor and vice chair for research in the department, who is the article's last author and Dr. Zebda's research mentor. "Our goal with this particular study was to evaluate the therapeutic action of intranasal capsaicin in the management of nonallergic rhinitis symptoms and its effect on nasal blood flow via optical rhinometry readings."
Optical rhinometry (ORM) allows the researchers to document changes in nasal mucosal swelling during nasal provocation tests with capsaicin. Designed like a pair of glasses, ORM is an objective means of assessing nasal obstruction in a disorder marked by subjective symptoms. It can be adapted easily to clinical use.
"With a better understanding of the pathophysiology and disease process of NAR, we can direct treatment more appropriately," Dr. Luong says.
In the study, patients with a history of NAR were screened using a diagnostic intranasal capsaicin challenge with optical rhinometry and skin-prick testing. Twenty-two patients were randomized either to treatment or placebo, with treatment consisting of five consecutive intranasal applications an hour apart and follow-up at 4 and 12 weeks.
"Treatment with intranasal capsaicin resulted in improvement in the participants' symptom scores," Dr. Luong says. "Twelve weeks after treatment, 80 percent of the patients in the placebo arm of the study still met objective criteria for nonallergic rhinitis, compared to 40 percent of the group who received capsaicin, as measured by optical rhinometry. Capsaicin also objectively reduced nasal reactivity and nasal congestion with a 40 percent rate of response at 12 weeks using ORM for evaluation. Optical rhinometry, along with symptoms, may better identify responders to intranasal capsaicin treatment. These advances in diagnosis, along with the increasing body of evidence showing the effectiveness of intranasal capsaicin, sets the stage for the eventual creation of a topical formulation with the potential to provide relief for patients with NAR."
Reference
Zebda D, Jiang ZY, Gibson MM, et al. Double-blinded randomized prospective trial of intranasal capsaicin treatment for nonallergic rhinitis. Int Forum Allergy Rhinol. 2021;11:24-30.
---