Dr. Parul Sinha Completes Facial Plastic and Reconstructive Surgery Fellowship at UTHealth Houston
---
---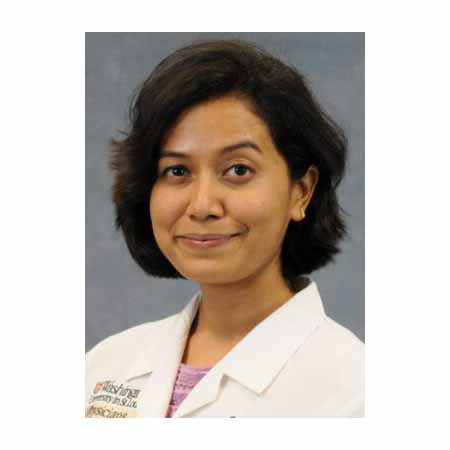 Parul Sinha, MD, has completed a fellowship in facial plastic and reconstructive surgery at the Texas Center for Facial Plastic Surgery in the Department of Otorhinolaryngology at McGovern Medical School at UTHealth Houston. She will join a large ENT group in the city.
A native of Bihar, India, Dr. Sinha received her medical degree at Patna Medical College in Bihar, where she won the Gold Medal in the University Final Medical School Examination. She completed junior residency training in ENT at the All India Institute of Medical Sciences in New Delhi, followed by certification in public health at the University of Florida in Gainesville. She then joined Washington University in St. Louis as a research fellow and went on to complete her residency in otorhinolaryngology-head and neck surgery in 2021, prior to acceptance in the fellowship program at McGovern Medical School. She also completed postdoctoral training and a Master of Science in Clinical Investigation while at Washington University.
Dr. Sinha has won numerous awards, including the 2021 Joseph M. Chole Humanitarian Award given by the Washington University Department of Otolaryngology. She is an author of more than 40 publications in peer-reviewed journals and nine book chapters, and has made several scientific presentations.
As a fellow, Dr. Sinha worked closely in clinic and in the operating room with Tang Ho, MD, director of the Texas Center for Facial Plastic Surgery and chief of facial plastic surgery in the Department of Otorhinolaryngology-Head and Neck Surgery at McGovern Medical School. Dr. Ho has specialized expertise in aesthetic and functional rhinoplasty, facial reanimation after facial paralysis, facial rejuvenation, microvascular surgery, and major facial reconstruction after cancer surgery or trauma.
"We are fortunate to have had Dr. Sinha as our inaugural fellow this year. She's been fantastic to work with and has great bedside manners. I'm excited that she'll be continuing her career here in Houston with a great group of colleagues," Dr Ho says.
She also worked with W. Katherine Kao, MD, assistant professor of otorhinolaryngology, who has expertise in aesthetic and functional facial plastic surgery, facial trauma, and hair restoration.
"Dr. Ho is an incredible educator, and has been an exceptionally nurturing mentor to me. Dr. Kao is a wonderful physician and was very supportive throughout my training," Dr. Sinha says. "The fellowship gave me the focused experience I sought to gain in management of the complete spectrum of facial aesthetic, functional, and reconstructive issues. I'll put the technical skills, precision, and attention to minute details I've acquired during my fellowship to good use caring for my patients going forward. This has been a great year!"
---