Three Otorhinolaryngology Faculty Members Recognized for Teaching Excellence
---
---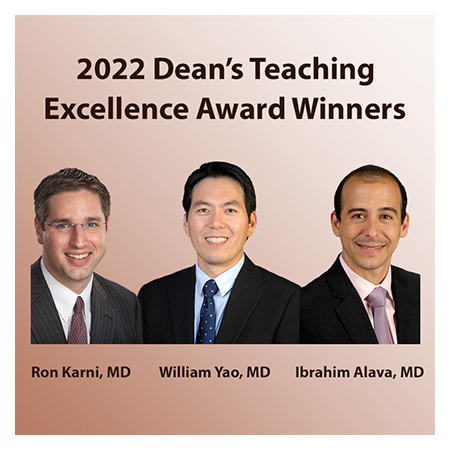 Congratulations to our 2022 winners of the Dean's Teaching Excellence Awards at McGovern Medical School at UTHealth Houston: Ibrahim "Trey" Alava III, MD; Ron J. Karni, MD; and William C. Yao, MD. As part of a comprehensive health science university, the medical school's mission is to educate health science professionals, discover and translate advances, and model best practices in clinical care and public health.
An associate professor, Dr. Alava is vice chair for quality and patient safety in the department and chief of otolaryngology-head and neck surgery at Lyndon B. Johnson Hospital, part of Harris Health System, where he also serves as medical director of the hospital's 32 specialty clinics. His clinical interests include endocrine head and neck surgery, skin cancers of the head and neck, and all aspects of general otolaryngology. His research interests center on improving outcomes, health care disparities, and health care delivery modeling. Dr. Alava has worked on numerous process improvement projects at LBJ Hospital, part of Harris Health System, and at Memorial Hermann-Texas Medical Center.
Dr. Karni is chief of the Division of Head and Neck Surgical Oncology and assistant vice president for oncology community programs at the medical school. An associate professor of otorhinolaryngology, he also is physician lead of the Memorial Hermann Cancer Accountable Care Organization, one of the region's first health system Cancer ACOs under the larger Memorial Hermann ACO umbrella. Dr. Karni's practice focuses on the management of benign and malignant tumors of the head and neck, including throat cancer, oral cancer, larynx cancer, locally advanced skin cancer, salivary gland tumors, and thyroid/parathyroid disease. He also performs ultrasound-guided fine-needle aspiration biopsy for thyroid nodules and minimally invasive thyroid and parathyroid surgery.
Dr. Yao, an associate professor, is director of the otorhinolaryngology residency program. Fluent in English and Japanese, Dr. Yao has a strong interest in surgical technique and residency education, including the development of teaching instruments. As a rhinologist, he is committed to delivering leading-edge medical and surgical management for chronic rhinosinusitis and paranasal sinus diseases, and performs advanced endoscopic sinus surgery, revision sinus surgery, and skull base and orbital surgery. He serves as co-director of the UTHealth Houston Rhinology and Skull Base Fellowship.
---