Planning, Teamwork, and Good Communication Ensured Outstanding Surgical Care for Otorhinolaryngology Patients During COVID-19
---
---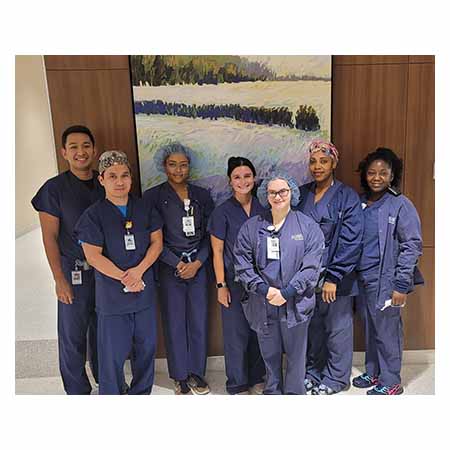 The nurses and surgical technicians who make up the otorhinolaryngology-head and neck surgery operating room team at Memorial Hermann-Texas Medical Center ensured smooth sailing for physicians and their patients during the early days of COVID-19 and throughout the pandemic. They accomplished their goals of patient and personal safety through coordinated teamwork, swift communication, and a strong sense of family at work.
"A huge part of our success was the willingness of our OR staff to proceed despite the risks they faced," says Kunal Jain, MD, assistant professor of otorhinolaryngology-head and neck surgery at McGovern Medical School at UTHealth Houston. "We knew very little about the SARS-CoV-2 virus in the early days of the pandemic, and we were performing eight-to-10-hour surgeries at a time when we had no vaccines and little testing. We suspected the virus was spreading through the mouth, nose, and upper airway, and that's precisely our field of practice."
Memorial Hermann-TMC, the tertiary-care academic teaching hospital for McGovern Medical School, was closed for elective surgeries for two weeks in late March and early April 2020. By the third week, the ORs were up and running for urgent cases selected after review by a committee that made case-by-case decisions.
"The doctors took really good care of us, and we all took care of each other. During the first months of the pandemic, we were double or triple gowning and wearing N95 masks under a standard three-layer surgical mask," says Mario Galvez, RN, BSN, an OR circulating nurse with 18 years of experience, who has been employed by the Memorial Hermann ENT service line since 2014. "We wore goggles and two caps, and all this protective clothing made spending hours in the OR very hot, even though we maintain the air temperature between 65 and 68 degrees."
Ty Geffrard, a surgical technician in the ENT pod with 20 years of experience in the OR, joined the team in 2018. "We were extremely careful about hygiene and scrubbed our hands every time we touched anything in the OR," says Geffrard. "Because we have a Level I trauma center, many of our patients are admitted as emergent cases after suffering a trauma, and there's no time to test for COVID-19. In these cases we have no choice but to treat them as if they're positive for the virus. In the end, we all got through it because we're a good team with great communication. We work together as a family."
A special thanks to our Otorhinolaryngology-Head and Neck Surgery OR pod team members for their dedicated service: David Banks, RN; Joseph Calaug, CST; Myra Cardenas, CST; Maricela Curpus, CST; Marquita Dunson, CST; Meggan Dyson, CST; Katelyn Fowler, CST; Mario Galvez, RN; Hannah Grabarkievtz, RN; Avery Gray, RN; Allesha Johnson, RN; Jay Jugo, RN; Conchetta Nelson, CST; Kaylee Richardson, RN; and Jada Washington, RN.
---