Foster care clinic wins excellence designation
---
---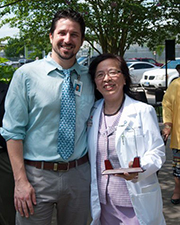 More than 4,000 children in the custody of the Texas Department of Family and Protective Services (DFPS) receive their medical care from the McGovern Medical School physicians at the Harris County Protective Services (HCPS) Clinic.
In recognition of the high standard of care provided to foster children who have experienced trauma, Superior Health designated the clinic as the first Foster Care Center of Excellence in Harris County.
To qualify as a Foster Care Center of Excellence, a clinic must meet 47 criteria and the highest standards of care for foster children and their caretakers. The clinic, a collaboration among HCPS, McGovern Medical School, DFPS, and Superior Health, is the second clinic in Texas with the distinction.
"We are proud to receive this designation," said Joel Levine, executive director of HCPS. "It is a reflection of the hard work our staff has done to ensure foster children with visible and invisible wounds can heal in a safe, inviting atmosphere."
McGovern Medical School physicians have provided comprehensive medical care to foster children at the clinic since 1994. Led by Kim K. Cheung, M.D., Ph.D., associate professor of pediatrics, for more than 17 years, the physicians are trained specialists in the treatment and care of children who have been abused or neglected. Cheung also is chair of the Houston/Harris County Fatality Review Team and a member of the State Child Fatality Review Team.
"Physicians treat these children, who have been victims of abuse and neglect, by using trauma-informed practices, which is very important for their whole-health healing," Cheung said.
"As the medical providers of care, we are honored that the clinic has been named a Superior Foster Care Center of Excellence," said Kevin Lally, M.D., M.S., interim chair of the Department of Pediatrics. "This designation speaks to the hard work, dedication, and devotion of our physicians in treating this vulnerable population of children. It also highlights the unique relationship we have with the Harris County Protective Services for Children."
Christopher Frederick, D.O., assistant professor of psychiatry and behavioral sciences, provides psychiatric health care at the clinic.
As the oldest and first program of HCPS, the clinic was established in 1972 to provide medical services to children who have experienced trauma and are involved with Child Protective Services. It has been recognized as a one-of-a-kind clinic that brings experts together in one location to provide medical, dental, and behavioral health care exclusively to children in foster care.
-Hannah Rhodes, Office of Public Affairs
---