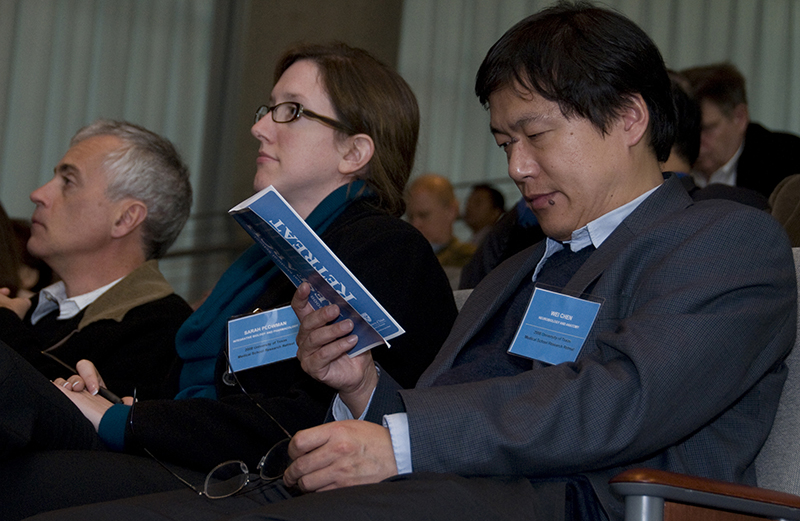 The Office of Research Affairs has a firm commitment to advancing the research enterprise of the Medical School by providing input on research and research related policy matters to the Dean,  the Administrative Council and Faculty Senate as follow:
Identification and consideration of research areas for development, especially in regard to the establishment of centers and interdisciplinary programs.
Identification of facilities and equipment needed for replacement and development.
Development of strategies for expanding activities in clinical and basic research.
Establishment of a plan and guidelines to more actively participate in technology transfer.
Advise on use of institutional resources and the acquisition of outside funds for the development of research programs to make the research efforts of the school visible to the public.
We are also committed to enhancing the research and intellectual endeavors of both faculty and trainees through programs offered by the Research Committee and the Graduate Student Education Committee. The Office of Research Affairs also screens and identifies nominees for extramural funding opportunities with limited submission criteria and is responsible for the oversight and management of the Annual McGovern Medical School Research Retreat, The Ernst Knobil Distinguished Lecture, the Dean's Lecture Series, the Cheves Smythe Distinguished Lecture Series and the Collaborative Workshop series.
---
EVENTS
---
March 2, 2021
Annual Medical School Research Retreat
9:00 a.m. –5:00 p.m., IMM, Beth Robertson Auditorium
---
March 2, 2021
Ernst Knobil Distinguished Lecture and Keynote Address
10:50 a.m. – 11:50 a.m.
Attending Physician
Division of Infectious Diseases
Children's Hospital of Philadelphia
"SARS-CoV-2 Vaccines: Where Do We Stand?" 
---
---
April 20, 2021
Cheves Smythe Distinguished Lecture
Louise Aronson, M.D., M.F.A.
Professor, Medicine
University of California, San Francisco

"Pandemic and Prejudice:
Lessons from COVID-19 About Aging
and Healthcare in America"
4:00 p.m.
Via WebEx
---
Date :  TBA
Dean's Lecture
Robert Califf MD, MACC
Vice Chancellor for Health Data Science
Donald F. Fortin, MD Professor of Cardiology
Director, Duke Forge
Duke University
Advisor, Verily Life Science
Duke University

"Linking individual and population health in the 4th industrial revolution"
Time:  TBA
Via WebEx
---
---